Paris, France - March 14, 2019 - Independent developer and publisher Eugen Systems (R.U.S.E., Wargame series, Steel Division: Normandy 44) is excited to welcome players to phase 1 of the upcoming singleplayer/multiplayer beta for Steel Division 2 on Steam. With phase 1 scheduled to begin on March 27 for 48-hours and open to players who pre-order Steel Division 2 via Steam, Gamesplanet, or The Humble Store, beta testers can look forward to an advanced look at a variety of Steel Division 2's game modes, including Breakthrough.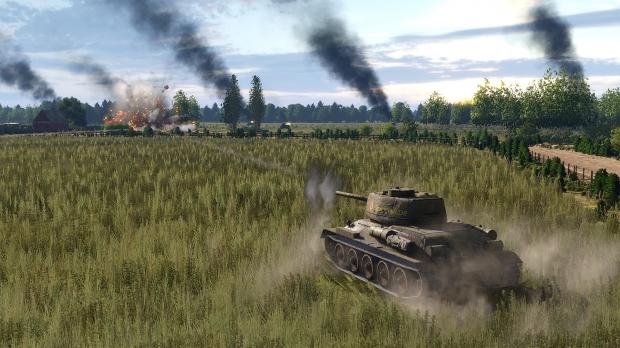 This mode finds defending players holding control of the map against an attacker - and makes heavy use of the brand-new Defense Structures feature recently highlighted on Eugen Systems' developer diary. Deploy barbed wire, trenches, gun pits, and bunkers to hold the line. Beta testers can also look forward to checking out Conquest Mode, an objective based mode that charges players with pushing the frontline of battle forward by capturing objectives across the map. Two divisions will be available to choose from for phase 1, starting with the German 5. Panzerdivision and 2nd Guards Tank Corps - with more to come in future phases.
Steel Division 2 fans can also look forward to regular updates and additional 48-hour multiplayer beta phases each week. For full details on the upcoming beta phases for Steel Division 2, please head to the page on Steam. To make room for an extended beta on Steam and to allow for further development work on Steel Division 2 based on player feedback, Steel Division 2 is now scheduled to launch on May 2, 2019.
"We're excited for Steel Division players to finally experience what we've been working so hard on behind closed doors when the Steam beta launches," said Pierre-Yves Navetat, Marketing and Communication Manager at Eugen Systems. "This beta will allow us time to incorporate player feedback and ensure players the best launch day experience with Steel Division 2."
For full details on pre-order bonuses for Steel Division 2, please head to the official website at buy.steeldivision2.com.
Steel Division 2 is the sequel to the critically acclaimed real-time strategy title Steel Division: Normandy 44. Set during Operation Bagration on the Eastern Front in the summer of 1944, Steel Division 2 pushes the limits of the World War II tactical experience, delivering new 1:1 scale Dynamic Strategic Campaigns. Command entire armies during Operation Bagration, covering the Soviet counter-attack against Axis forces in Byelorussia. Battle in the multiple skirmish modes on 25 maps and customize your battlegroups in the brand-new deck system, allowing for an unprecedented level of customization.
To stay up to date on the latest regarding Steel Division 2, be sure to visit the game's official website and follow the developers at Eugen Systems on Twitter, Facebook, and YouTube. Fans can also interact with the Steel Division 2 team at Eugen Systems and find the latest developer diaries on the official Eugen Systems forums.
Last updated: Sep 25, 2019 at 05:39 pm CDT