Deck of Ashes arrives on Steam Early Access on April 11, 2019. Be sure to put in a preview key request ASAP.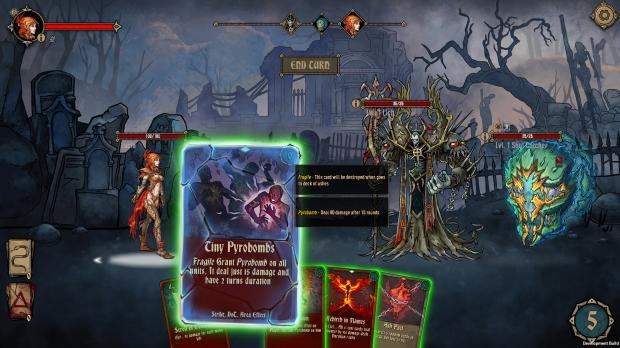 Today, developer AYGames is pleased to share an overview of the core mechanic in their upcoming deck-building RPG Deck of Ashes: deck-building and battling.
Deck of Ashes is a procedurally-generated turn-based RPG with a unique twist: players must explore the game world as they track down powerful cards in order to forge a powerful Battle Deck. After battling an ever-more challenging succession of foes, players will use their deck to battle the ultimate evil and dispel the Ash Curse. Be careful, though, as losing a battle means losing all your hard-earned cards, and having to start fresh!
In Deck of Ashes, players will find themselves scouring a grim fantasy world in search of combat cards, supplies, and other resources - all while battling against some of the vilest beasts the cursed land has to offer. While collecting cards to create a merciless powerhouse of a deck, players will choose their champion from a band of ruthless antiheroes - each of whom has a unique set of cards - and take on the world, one intense encounter after another.
Key Features Include:
Build Power-Fueled Decks: Test your wit and your strategic mettle with powerful Battle Decks, each crafted with unique combat cards that deal staggering combos and unforgiving effects

Eerily Wonderful Environments: Explore and navigate a completely hand-drawn cursed landscape with dangers lurking in every shadow

A Biome (and Monster) for Every Occasion: Discover unique biomes, each harboring different monster types

Stayin' Alive, Stayin' Alive: Enjoy an ever-changing, new experience each game with procedurally generated realms waiting to devour the next unwary traveler

No Mercy for the Weary: Mistakes are unacceptable, death is forever - without the use of dark magic, once you die, you're gone for good
Developed and published by AYGames, Deck of Ashes is a single-player rogue-lite RPG with deck-building mechanics. Deck of Ashes will come to Steam Early Access in April with a full release planned for later in 2019. For more information, visit https://aygamesco.com/.
Last updated: Sep 25, 2019 at 05:39 pm CDT