6 March 2019 - Games Operators, publisher of famous 911 Operator, is proud to announce new details concerning the intriguing game Cyber Ops: Tactical Hacking Support developed by Octeto Studios, a company based in Santiago, Chile.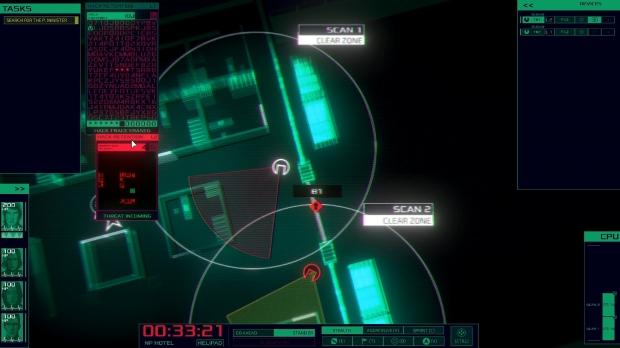 Are you ready to become a military hacker and help your black ops team reach their goal in this noir cyberpunk tactical game? Scan, hack, overtake, control and manage high tech devices, vehicles and even enemy cyborgs with cutting-edge implants. You are not in the first line - but in the middle of the action.
Cyber Ops: Tactical Hacking Support is based on the breakthrough idea of changing perspectives. You will not run, hide or shoot. But it does not mean that you are not important! On the contrary! You will be the eyes, hands and cybernetic implants of your team mates. You are not Sam Fisher from Tom Clancy's Splinter Cell or Solid Snake from Metal Gear. But you are helping guys of this kind in many other ways. This will be a deep, real-time experience where real agents depend on you to complete their missions and get back to base in one piece.
The plot of this complicated tactical game takes place in a tech-noir cyberpunk world full of political intrigues, populated by conspirators, with high-tech body upgrades, brain hacking, mechs, synths and everything we love about movies like Ghost in the Shell, Blade Runner, Escape from New York, Alien and others. Cyber Ops: Tactical Hacking Support will tell you the story of the top agents of Baltia's Geist Division in a novel-like interactive experience. You will assist those strong characters facing complex missions and hacking their way in and out...
Cyber Ops: Tactical Hacking Support will be available late 2019 on Steam.
Usefully links:
Cyber Ops: Tactical Hacking Support

Octeto Studios

Games Operators
About Octeto Studios:
A Game Development Company based in Santiago, Chile, specialized in mobile, desktop and web games. Active members of VG Chile (National Game Development Companies Association) since 2012 and of IGDA (International Game Developer Association) since 2013.
About Games Operators:
Games Operators is a publishing company that invests in, releases and promotes video games. It helps with developing innovative and unique games and is involved in projects at various progress stages - from conceptual work to almost finished productions. Games Operators offers technical and conceptual consultations, provided by our internal development team - Jutsu Games, responsible for the success of 911 Operator.