26.02.2019 - Warsaw, Poland - SilentiumPC is thrilled to announce the availability of its new Signum SG1 cases. Compact and efficient, these value-oriented cases are designed to bring ODD-less designs to the lower price points. Combining pure functionality with a pinch of style, the Signum SG1 is an excellent mainline case choice for any budget-conscious system builder and DIY user.

Inspired by automotive design, the distinctive, hexagonal side-vents are not only functional, providing ample airflow, but also a vital design element giving the Signum SG1 its unique personality.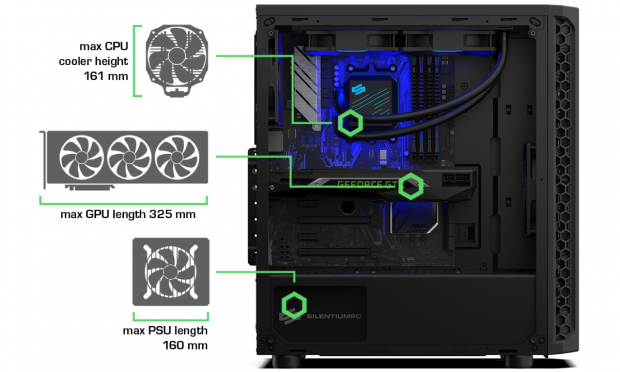 In terms of functionality, this chassis was created with ultimate practicality in mind with internal layout radically simplified for ease of installation and maintenance. Signum SG1 chassis support ATX, Micro-ATX and mini-ITX mainboards and offer ample space for latest VGA cards with a length of up to 325 mm as well as CPU air coolers with a maximum height of 161 mm. Users are able to install All-in-One water-cooling systems with 120/240 at the top and 120/240 as well as 360 radiators in the front.
Two thoughtful SSD spaces located on the backside of the motherboard tray allow for simply sliding the drives in and locking them in place using a single thumbscrew. Two additional 2,5 or 3,5" drive spaces are positioned in more conventional spots: the drive cage in the lower chamber. The ODD drive bays have been omitted completely.
Signum SG1 series also features extra room behind the motherboard tray, with up to 35 mm, for straightforward cable management support with multiple grommets and cable tie mounts.
Top I/O panel features dual USB3.1 ports and is attached to the chassis, allowing easy removal of the front panel without the need of rearranging the cables.
Proper airflow is ensured by utilizing the dual-chamber layout, as well as large vents in the front and top of the case. Depending on the Signum SG1 case version, either one or two Sigma HP 120mm fans are pre-installed with the option of expanding by up to 8 fans in total.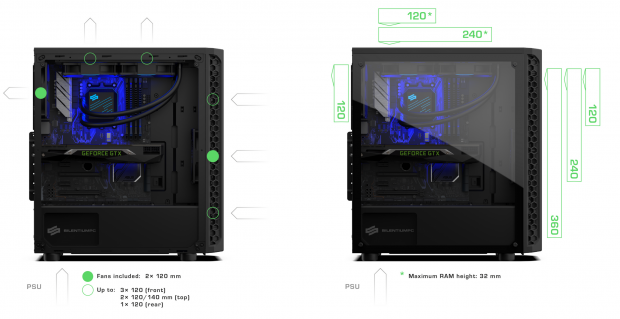 Signum SG1 series comes in five different versions, sharing the general design with just a minor differences. From entry-level base versions, through simple tempered-glass side panel variants, to the top of the line SG1X with dual glass side and front and RGB ring-fans:
Signum SG1 - has a mesh front panel and a single Sigma HP 120mm fan at the back
Signum SG1 TG - mesh front panel and two Sigma HP 120mm fans
Signum SG1M - minimalistic, metal front panel and a single Sigma HP 120mm fan at the back
Signum SG1M TG - minimalistic, metal front panel and a single Sigma HP 120mm fan at the back
Signum SG1X - the top-of-the-line version with dual tempered-glass panels and RGB ring fans (available mid-March)
MSRP:
SilentiumPC Signum SG1/SG1M @ 35.00 EUR
SilentiumPC Signum SG1TG/SG1MTG @ 42.00 EUR
SilentiumPC Signum SG1X TG RGB @ launches mid-March
About SilentiumPC:
Since 2007 SilentiumPC brings well-made CPU coolers, cases and power supplies with main focus on exceptional value for money achieved through effective design and smart cost-cutting. No fancy trademark names, just well-thought-out products designed to work, chosen and praised by value-minded enthusiasts and system integrators.
Last updated: Sep 25, 2019 at 05:39 pm CDT