Toshiba America Electronic Components, Inc., a committed technology leader, announces the HK4 Series, a new enterprise 6Gbit/s SATA solid state drive (SSD) series, designed for read-intensive and value-endurance workloads. The HK4 Series is Toshiba's first enterprise SSD to embed 15 nm MLC NAND flash memory for enterprise and data center applications, including low latency tuned for high quality of service (QoS).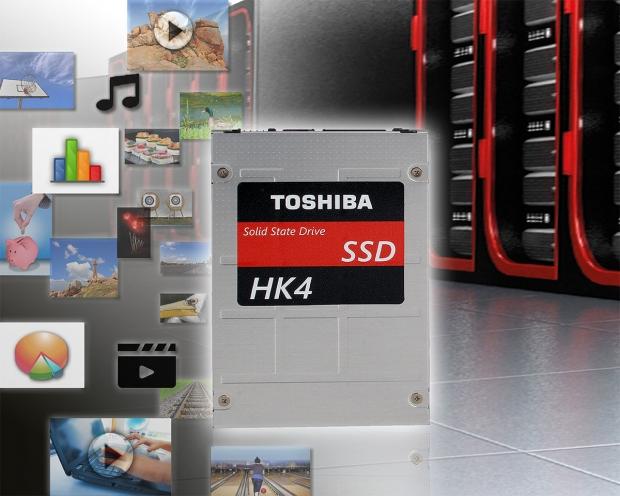 The read-intensive HK4R Series is available in capacities up to 1.92 TB with low operating power and is suitable for enterprise applications such as web servers, files servers, media streaming, video-on-demand, search engines and warm data storage. The HK4E value-endurance drive offers an endurance level of three DWPD3 and a capacity up to 1.6 TB. It is well suited for data centers and mixed workload applications.
The HK4 Series is also Toshiba's first SATA SSD with optional Trusted Computing Group (TCG) enterprise encryption support and is also equipped with Toshiba's QSBC (Quadruple Swing-By Code) error-correction technology. Toshiba's proprietary QSBC error-correction technology is a highly efficient error correction code (ECC) which helps protect customer data from corruption caused by NAND flash memory media wear, thus improving reliability and extending the life of Toshiba SSDs.
"With the introduction of a leading edge SATA drive, Toshiba has strengthened their portfolio of SSDs and is rapidly becoming a supplier that Enterprises and Datacenters can rely on for all of their Solid-State Storage needs," said Don Jeanette, TrendFocus's NAND and SSD research vice president.
"The HK4 Series joins our family of SATA SSDs and is designed to meet the needs of our customers who are looking for a SATA SSD with low operating power, excellent quality of service, high capacity and with encryption," said Jeremy Werner, vice president of SSD and storage solutions marketing at Toshiba America Electronic Components, Inc. "Knowing that security and encryption is a priority for our customers, we are thrilled to release a SATA SSD that meets those needs."
Equipped with a five-year limited warranty, the HK4 Series drives are available now. The self-encrypting drives will be available April 2016.
Last updated: Apr 7, 2020 at 12:11 pm CDT