ASUS today announced 970 Pro Gaming/Aura, the world's first motherboard based on the highly-anticipated AMD 970+SB950 chipset, with official NVIDIA SLI certification for epic up to quad-GPU graphics, plus integrated Aura RGB - the all-new, awesome illumination technology invented by ASUS. As the latest member of the value-packed ASUS Pro Gaming series, 970 Pro Gaming/Aura has multiple exclusive features for superior gaming experiences. These include gaming-grade Intel Gigabit Ethernet with ASUS LANGuard and GameFirst technologies for fast, safe and lag-free networking, and SupremeFX with Sonic Radar II for flawless in-game audio that keeps 970 Pro Gaming/Aura gamers one step ahead on the battlefield.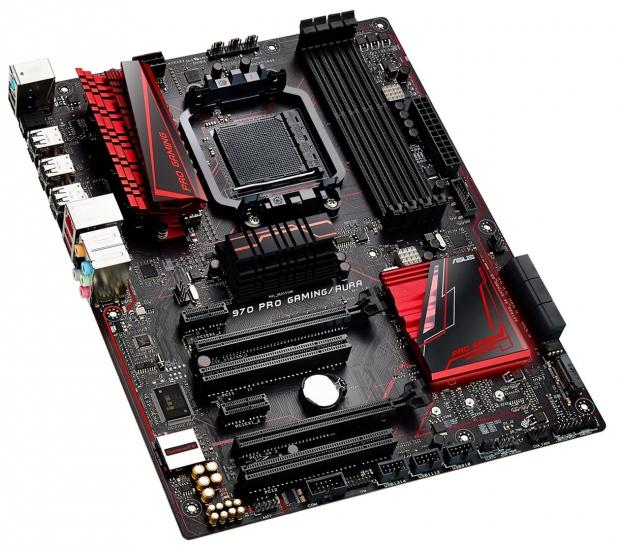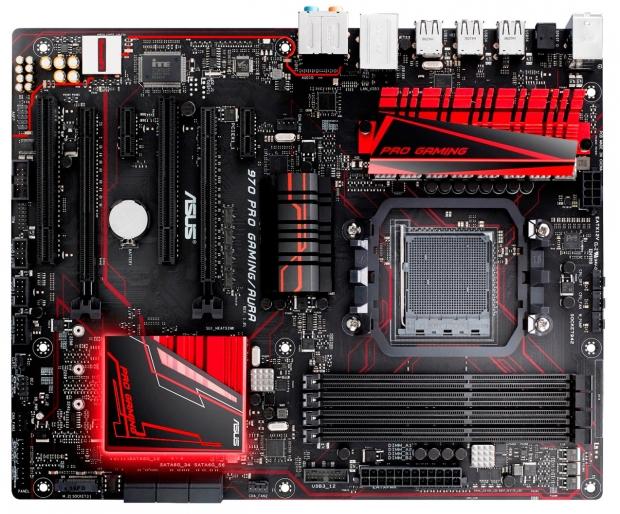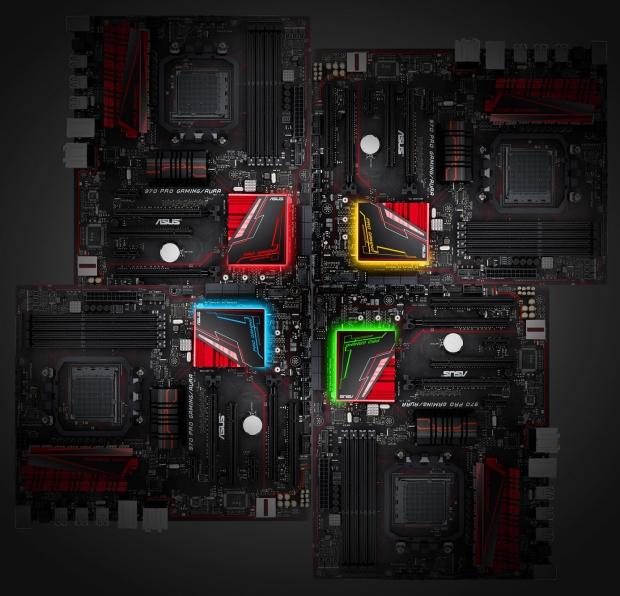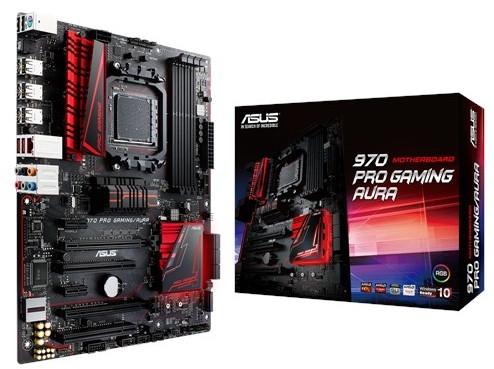 Compatible with the latest processors for the AMD AM3+ socket, 970 Pro Gaming/Aura delivers flexible cooling with a dedicated water-pump header, plus intuitive Fan Xpert controls. The new board also has the very latest connectivity built-in, including USB 3.1 Type-A and NVM Express (NVMe) M.2. Exclusive RAMCache technology accelerates game loads, durable Gamer's Guardian components ensure longevity, and smart DIY features protect users and ease every build.
Aura RGB lighting: Striking LED illumination with customizable effects
970 Pro Gaming/Aura is the latest motherboard to benefit from Aura, the all-new LED-illumination technology invented by ASUS - and exclusive to owners of ASUS motherboards. Aura makes it easy to light up any 970 Pro Gaming/Aura gaming rig with an endless spectrum of color combinations, as well as enabling loads of fascinating and fun effects.
Aura includes simple software controls for customizing the LED lighting. The intuitive interface lets gamers cast a stunning multi-color glow across their 970 Pro Gaming/Aura builds, including a breathing effect, color-strobing and color-cycling, plus the ability to change shades to indicate CPU temperature, or pulsate in time to the beat of favorite music.
Epic graphics: Support for up to quad-GPU NVIDIA SLI or quad-GPU AMD CrossFireX
970 Pro Gaming/Aura is the first AMD 970 chipset-based motherboard on the planet to receive official certification for compatibility with NVIDIA SLI, enabling up to two-way, quad-GPU setups for epic graphics performance.
AMD's own CrossfireX multi-way graphics technology is also supported, for up to two-way, quad-GPU graphics supremacy - giving 970 Pro Gaming/Aura rig-builders total flexibility in their quest for maximum gaming performance and visual excellence.
Built for winners: Intel Gigabit Ethernet, LANGuard, GameFirst, SupremeFX and Sonic Radar II
970 Pro Gaming/Aura has faster-than-fast networking, with tournament-level Intel Gigabit Ethernet, ASUS-exclusive LANGuard and GameFirst technologies to keep the connection fast and free from lag.
Intel's LAN technology has the serious double advantage of reducing CPU overhead and offering exceptionally high TCP and UDP throughput, significantly reducing the processor's workload to free up power for the game.
ASUS LANGuard is hardware-level networking protection that employs signal-coupling technology and interference-reducing surface-mounted capacitors for rock-solid gaming connections and better throughput for online play, plus electrostatically-guarded and surge-protected components for greater tolerance to static electricity and improved protection against power surges.
Upgraded ASUS-exclusive GameFirst technology prioritizes game-related packets and allocates more bandwidth to games, eliminating laggy gameplay, streaming stutters and file-sharing slowdown - 970 Pro Gaming/Aura gamers need only choose the Optimization, Game, Media Streaming or File Sharing preset to watch their networks fly. The latest GameFirst now includes Multi-Gate Teaming to team all available networks for maximum bandwidth and the smoothest-ever gameplay.
970 Pro Gaming/Aura is engineered with ASUS-exclusive SupremeFX audio technology for in-game sound that's alive with realism. The purity and stability of the remarkable 115dB signal-to-noise ratio (SNR) is assured, with a shielded design, electromagnetic-interference (EMI) cover and voltage-protected 5V power supply.
Supreme FX's superior components, including the trusted Realtek ALC1150 codec, maximize acoustic performance and eliminate interference - so only the very best audio is enjoyed through either gaming headsets or speakers. The red-line shielding is illuminated for beautiful aesthetics, and it's even customizable, allowing users to create eye-catching lighting effects.
The new 970 Pro Gaming/Aura motherboard enables gamers to become hunters rather than the hunted with Sonic Radar II, a stealthy overlay that shows what opponents and teammates are up to on the battlefield - all managed via a simple control panel and customizable game list. Sonic Radar II shows both the direction and origin of key in-game sounds, enabling ASUS gamers to practice enemy-pinpointing skill. It even includes Audio Enhancement technology to clarify every sound detail - providing an audible heads-up to vital events.
Gaming-grade everything: USB 3.1, M.2, RAMCache, Gamer's Guardian, and water-pump header
970 Pro Gaming/Aura has the newest connectivity built-in, with up to 10Gbps USB 3.1, and an integrated M.2 socket for the latest high-speed solid state drives (SSDs). It also includes uniquely-intelligent RAMCache technology to launch favorite games and apps launch at breakneck speeds. A dedicated onboard water-pump header ensures that best water-cooling efficiency is instantly accessible.
Gamer's Guardian protections include the Digi+ voltage-regulator module (VRM) for ultra-smooth power delivery, DRAM Overcurrent Protection with resettable fuses, durable capacitors engineered to resist extreme temperatures, and a corrosion-resistant stainless-steel input/output (I/O) panel.
Easy-DIY features include one-clip Q-Slot video card installation, one-clip Q-DIMM memory installation, Q-Shield to prevents nicks and cuts during building and four Q-LED lamps for quick boot diagnosis.
For more information, visit the product page.
Last updated: Apr 7, 2020 at 12:10 pm CDT