TRENDnet, a global leader in reliable SMB and consumer networking solutions, announced today the launch of its new AC1900 USB Adapter, model TEW-809UB, which upgrades the wireless speeds of your laptop or desktop computer.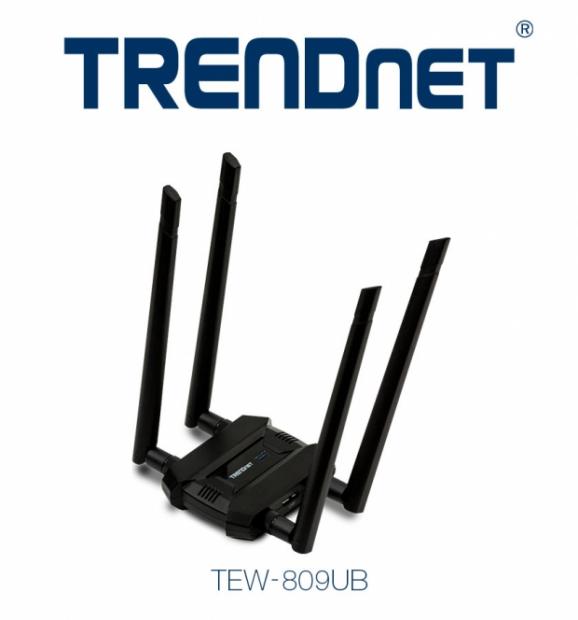 "TRENDnet is excited to launch a one-of-a-kind AC1900 USB adapter at CES," said Sonny Su, technology director at TRENDnet. "Our new AC adapter is a simple and affordable upgrade, uniquely designed to allow our customers to reach blazing-fast Wi-Fi AC speeds."
The new AC adapter supports speeds up to 1300 Mbps on the less congested 5 GHz band, and 600 Mbps on the 2.4 GHz band. The four detachable, high-gain antennas and high-performance amplifiers upgrade speeds and expands range. Beamforming technology improves your overall Wi-Fi signal by directing stronger Wi-Fi signals to specific device locations.
TRENDnet's TEW-809UB comes with a convenient 3.3 feet USB cable, which is perfect for both desktop and laptop setups. The SuperSpeed 5 Gbps USB 3.0 cable maintains a high-speed connection to your computer. The adapter supports both Windows and Mac operating systems.
Pricing and Availability
TRENDnet's AC1900 USB Adapter, model TEW-809UB, will be available worldwide through major retailers and other authorized TRENDnet partners in early spring 2016. TRENDnet's TEW-809UB will have an MSRP of USD $109.99.
Last updated: Apr 7, 2020 at 12:10 pm CDT