MSI Computer Corp, a leading manufacturer of computer hardware products and solutions, showcases the future of PC gaming technology with an award-winning selection of ultra-portable and desktop-replacement laptops, gaming AIOs, compact desktops, and more; including CES Innovation Honorees GS40 Phantom, Gaming 27XT, and Vortex Gaming Tower.
"Gamers demand reliable, versatile and powerful products that address their gaming needs, and our newest selection of gaming warriors address those demands," says Andy Tung, president of MSI Pan America. "PC gaming is constantly evolving and our award-winning selection rises to any challenge."
Products showcased at MSI's booth from January 6th to 9th include:
Notebooks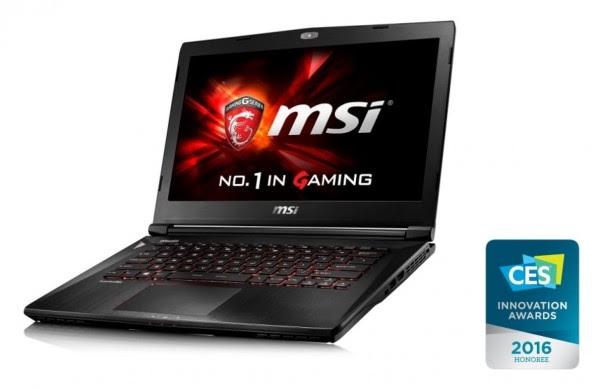 GS40 Phantom - MSI's GS40 Phantom is an ultra-portable 14" gaming laptop with the power of full-sized desktops. Armed with the latest Intel Skylake processor and NVIDIA GTX 970M graphics, the GS40 Phantom weighs only 3.75 lbs., measures less than 0.87 inches thick, and is designed for mobile gamers who refuse to compromise on performance. The GS40 Phantom is available now.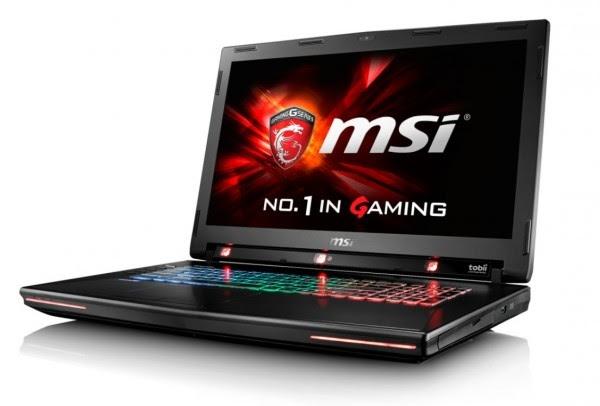 GT72S Tobii - The MSI GT72 is the world's most advanced gaming notebook and the world's first PC with integrated eye tracking from Tobii.
Enter a world of unparalleled immersion when both game characters and environments react to your gaze, focus and attention. Yet to be fully realized, eye tracking gaming is the next evolution in PC gaming, influencing not only the game, but also the components of your notebook as well.
Together, both MSI and Tobii are driving the growth of eye tracking gaming - supporting thousands of forward-thinking developers creating entirely new experiences for gaming, streaming and even general computing.
The GT72S Tobii will also be the only notebook to provide both eye-tracking and facial recognition support for Windows Hello, enabling Windows 10-ready biometric authentication and eye-tracking functionality.
The new GT72S Tobii will be available later this month supporting major game titles and will be bundled with the highly anticipated Tom Clancy's The Division which will also support Tobii Eye-Tracking technology. For a complete list of Tobii supported games, go to http://www.tobii.com/apps/.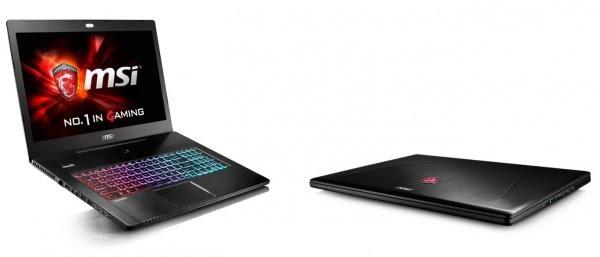 GS72 Stealth Pro - Thinner, lighter and more powerful. The GS70 Stealth gets an upgrade to design and performance with the latest addition to MSI's thin and light GS Series gaming notebooks with the new GS72 Stealth Pro. Measuring in at 0.78" thin, the GS72 is MSI's slimmest and lightest 17" gaming notebook and sports an ultra-high resolution 4K display packing unbelievably powerful hardware in a form factor chassis. The GS72 Stealth will also have a non-4K option and both will be available early January 2016.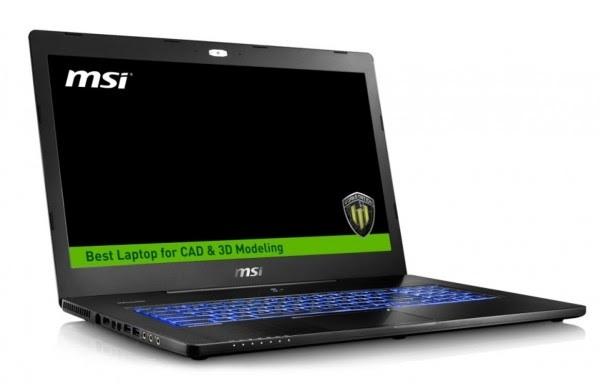 WS72 Workstation - MSI is more than just gaming, they also develop systems for the professionals in the field of animation, game development and architecture with the workstations notebooks product lines. MSI will be introducing their newest addition to their workstation family, the WS72. Focusing on power and portability, the 17" workstation includes the latest Intel Xeon Processors with Windows 10 Professional packed into a sleek and slim design. MSI's workstations are also certified by professional software developers like Autodesk, Adobe, PTC Creo, AutoCAD, SolidWorks, Maya, and Revit. The WS72 Workstation is available now.
Gaming Tower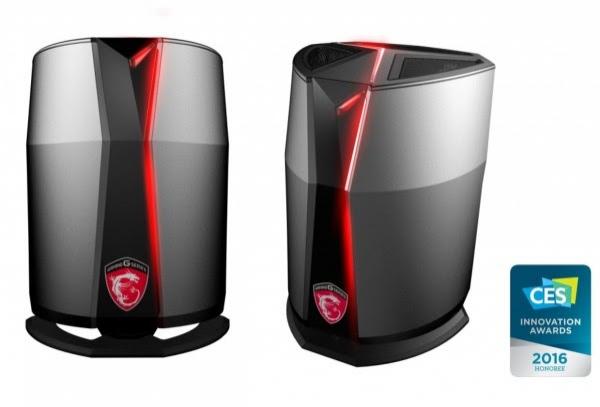 Vortex Gaming Tower - MSI's Vortex is a powerful compact gaming PC designed to fit anywhere. Potent yet small, the Vortex is only about 6.5L and comes packed with power utilizing a desktop Intel processor, dual NVIDIA GeForce GTX 980 SLI graphics for blistering fast performance, and a 360 degree Silent Storm Cooling design for superior performance under the most intense gaming sessions. It will also support multiple 4K video outputs simultaneously for intense multi-tasking and allow for expandability with an easy-to-upgrade design for DIY users. The Vortex will be available in 2016.
Gaming All-in-One/Gaming Desktop PC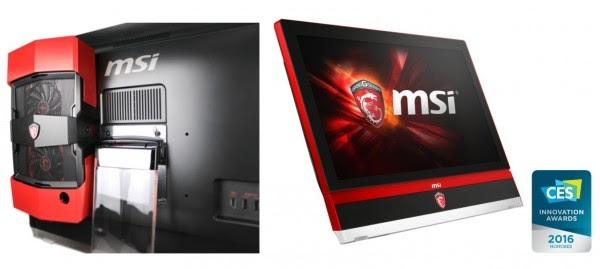 Gaming 27XT - MSI's Gaming 27XT is the world's first All-in-One PC to support an external desktop video card. Armed with a variety of high-tech components and technologies, including Nahimic Audio Enhancer, Killer Lan networking, and a stunning 144 Hz Full HD display, the Gaming 27XT delivers the best out of box gameplay experience for gaming enthusiasts.

Nightblade X2/MI2- MSI's Nightblade Gaming PC's are made specifically with the enthusiast in mind. The Nightblade X2 and MI2 platform comes equipped with Military Class 4 components allowing gamers to build out a high-performance gaming pc without sacrificing precious space in the battlestation. Equipped with an Intel Skylake chipset motherboard and support of up to NVIDIA GeForce GTX 980ti/970 video card respectively, the MSI Nightblade Series carries the horsepower gamers need without the size or weight to hold them back.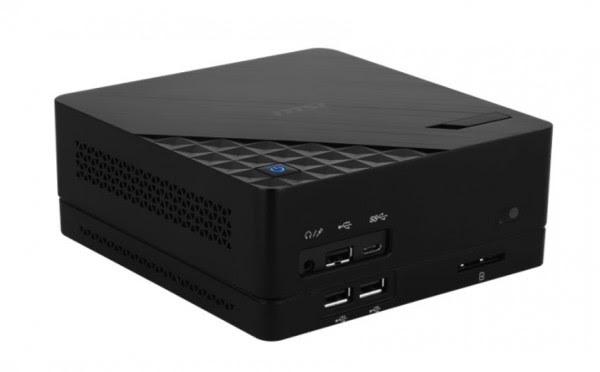 Cubi 2 Plus - The MSI Cubi 2 Plus is one of the latest and smallest mini-PC desktops equipped with Intel's 6th Gen Skylake-S processor. With support for an M.2 SSD, a 2.5" SSD slot, and enough ports for almost any application, the Cubi 2 Plus is well suited to serve as an HTPC at home, all-round media PC in the office, or commercial project PC.
Motherboards
Z170A GAMING PRO CARBON Edition - Sporting the latest Intel Z170 chipset and the latest version of Mystic Light, the Z170A GAMING PRO CARBON Edition motherboard is sure to offer outstanding performance and customization of your system. Enjoy crystal-clear immersive in-game sounds from the premium quality components of Audio Boost 3. Steel Armor ensures the most heavyweight video card setups are solid and stable. Engineered to provide both a stunning gaming and visual experience, the Z170A GAMING PRO CARBON Edition gives you plenty of reasons to show off.
X99A GODLIKE GAMING CARBON Edition - The world's most powerful gaming motherboard solution just got better. The X99A GODLIKE GAMING CARBON Edition motherboard features the improved Mystic Light RGB LED feature, supporting up to 16.8Million colors and 16 LED effects to style your rig in any way possible. Featuring the patented Turbo Socket, the X99A GODLIKE GAMING CARBON Edition removes all limits by providing extra pins (2036 in total) for better overlocking of the Intel extreme processors. Dominate the world of gaming and overclocking while looking awesome with the new X99A GODLIKE GAMING CARBON Edition motherboard.
B150M GAMING 3X - MSI celebrates its 30th Anniversary with the B150M GAMING 3X, with a golden PCB and red color scheme - which represents fortune and bliss in traditional Chinese culture. The B150M GAMING 3X inherits MSI's GAMING DNA, with a powerful GAMING LAN to experience ultrafast online gaming, and Audio Boost 3 for a crystal clear immersive gaming experience. This special 30th Anniversary model will include a MSI GAMING mouse as a bundle deal!
Graphics Card and Accessories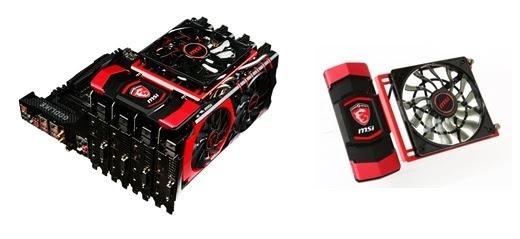 MSI's award winning Graphics Card line up will be on display at CES 2016. Notable MSI gaming graphic heavyweights include the GTX 980Ti Sea Hawk, GTX 980Ti Lighting, and most popular GTX 980Ti GAMING video card. 2016 also brings the unveiling of MSI's new line up of gaming accessories, including the new Interceptor DS4200 GAMING keyboard, Interceptor DS300 GAMING mouse, IE60 In-Ear GAMING headset, Thunderstorm Pro GAMING mousepad, and Focus GAMING Eye Tracker.
MSI is excited to unveil brand new 4-WAY and 3-WAY SLI Bridges in the famous MSI GAMING style, which form the perfect link for any 4 or 3-way MSI GAMING SLI setup. These bridges are forged out of high quality materials and feature a premium LED illuminated GAMING logo that can be controlled by the exclusive MSI Gaming App. To ensure a cool & quiet GAMING experience, a silent Cooler Master system fan is included which can be mounted on the SLI bridge.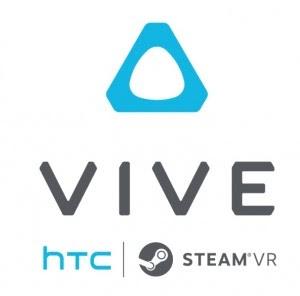 MSI & HTC BRINGS VIRTUAL REALITY TO LIFE
MSI's video cards, gaming motherboards, gaming notebooks, AIO's and desktops are ready for the next level of gaming - Virtual Reality. Partnering with HTC, MSI's hardware will be optimized for the new HTC Vive to give gamers the right level of performance, image quality, and latency to ensure their VR experience nothing short of amazing.
"VR is the future and HTC has partnered with companies such as MSI to deliver the best experience available," says Raymond Pao, Associate Vice President of HTC. "HTC and MSI are strategic partners who not only share a passion for gaming, but also believe in innovation, collaboration, and pushing limits."
Next-Gen Features
Staying at the forefront of innovation, MSI continues to push the boundaries of gaming with the latest features, soon to be integrated into the next generation of MSI hardware.

Nahimic 2 is the latest version of the ultimate audio software dedicated to gamers. Nahimic 2 introduces the HD Audio Recorder, an exclusive tool that creates a truly personalize livestream experience. FPS players can also look forward to experimenting with Nahimic 2's Sound Tracker, capable of detecting the location of gunfire to give gamers the upper-hand in competitive matches.

Dragon Eye is an easy-to-use picture-in-picture feature that allows gamers to watch a YouTube video or Twitch stream while playing a game simultaneously. Simply add a link or stream to the Dragon Eye application and select the size, position, volume and transparency - and start gaming!
Last updated: Apr 7, 2020 at 12:10 pm CDT