NETGEAR, Inc., a global networking company that delivers innovative products to consumers, businesses and service providers, is launching the industry's first AC2200 wall-plug range extender with Multi-User MIMO (MU-MIMO) technology. The new NETGEAR Nighthawk X4 AC2200 Wi-Fi Range Extender (EX7300) (www.netgear.com/EX7300) with MU-MIMO and Beamforming+ technology can expand the range of your existing Wi-Fi router to cover up to 10,000 square feet, and enables you to simultaneously stream data to multiple devices at lightning-fast speeds up to 2.2Gbps.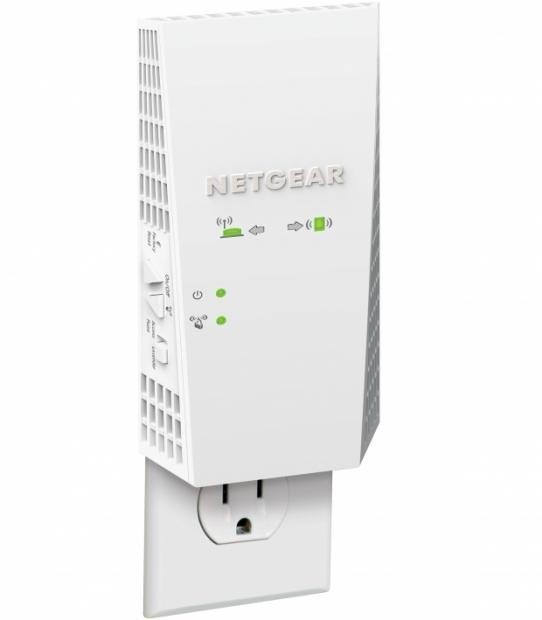 The AC2200 Wi-Fi Range Extender is the first wall-plug extender for the premium NETGEAR Nighthawk range of products. Along with its new sister wall-plug extender, the NETGEAR AC1900 Wi-Fi Range Extender (EX6400), it represents an expansion of the NETGEAR family of easy-to-use Wi-Fi Range Extenders for greatly enhanced network accessibility, range, and performance throughout your home for mobile connected devices. They are among the innovative products enabling the home network of the future that NETGEAR will highlight this week in its Marriott Las Vegas showroom during the 2016 International Consumer Electronics Show (CES).
Extending Your Home Network
According to a recent study by research firm MarketLab, only one in five U.S. Wi-Fi users rate the performance of their home network as excellent. One of the most common causes for complaint is Internet "dead spots" in the home. This presents a challenge to the "Internet of Things" (IoT) smart home of the future that is dependent on whole-home connectivity for an ever-increasing number of mobile devices. However, while 35 percent of survey respondents reported experiencing dead spots, only 12 percent had installed a Wi-Fi Range Extender to improve coverage and performance.
The new NETGEAR Wi-Fi Range Extenders each have four internal antennas and are optimized to deliver next-generation performance to the latest 802.11ac mobile devices throughout the home, as well as supporting older a/b/g/n Wi-Fi devices. Nighthawk X4 AC2200 Wi-Fi Range Extender integrates the latest technologies for maximizing bandwidth and boosting wireless and wired performance to provide coverage up to 10,000 square feet and at top speeds up to 2.2Gbps even when streaming HD content simultaneously to multiple devices. The AC1900 Wi-Fi Range Extender offers a similar feature set, but at speeds up to 1.9Gbps.
Some key technology features of the new Wi-Fi Range Extenders:
MU-MIMO support means the extender multitasks, streaming data to more devices simultaneously and reducing the wait time for everyone, delivering up to three times faster Wi-Fi for the smartphones, tablets and other devices on your busy network.

NETGEAR FastLane technology uses two Wi-Fi bands simultaneously to establish one super-fast wireless connection.

Beamforming+ improves wireless range and reliability by transmitting the Wi-Fi signal directly to mobile devices, instead of broadcasting the signal to a wider area.

A low-noise amplifier increases the quality of transmissions received from mobile devices, which means extended Wi-Fi range for more mobility.
"For most people, your mobile device is your lifeline. No matter where you are in or around your home, back yard or garage, you expect to stream, surf and access your favorite content without delay. It's a need, not a want," said Jonathan Wu, director of product management for NETGEAR Home Consumer Products. "Our newest Wi-Fi Range Extenders are designed with MU-MIMO and other new technologies and are compatible with any Wi-Fi router so you can enjoy improved performance from your existing equipment. And with Nighthawk X4 AC2200 Wi-Fi Range Extender, you can maximize your Wi-Fi for mobile devices at amazing speeds throughout any size home, large or small."
Both extenders offer a stylish, compact wall-plug design that is effortless to install and, with internal antennas, blends easily into a room. Smart LED indicator lights on the front of each extender guide you to an optimal location for best Wi-Fi coverage. You can establish a secure connection to any existing home Wi-Fi network with the simple push of a button.
A Gigabit Ethernet port with auto-sensing technology on each extender enables you to easily connect wired devices like gaming consoles, smart TVs or multimedia streaming set-top boxes to your existing Wi-Fi network. You can also set the extenders to access point mode, where the Gigabit Ethernet port connects to a wired Internet connection for upgrading your existing Wi-Fi to AC2200 speeds. Access point mode can also create a hotspot in a different location of your home that is pre-wired with an Ethernet jack.
The new extenders support helpful features such as Wi-Fi coverage controls and Wi-Fi access scheduling for parental controls. An additional bonus is that you can use the free NETGEAR Wi-Fi Analytics app for Android tablets and smartphones with NETGEAR Wi-Fi extenders to get information about your network status, signal strength, and channel interference to help you optimize your home network.
Pricing and Availability
The NETGEAR Nighthawk X4 AC2200 Wi-Fi Range Extender (EX7300) is available now from major retailers in stores and online, at an MSRP of $169.99 in the U.S. The NETGEAR AC1900 Wi-Fi Range Extender (EX6400) is available now at an MSRP of $139.99.
Last updated: Apr 7, 2020 at 12:10 pm CDT