QNAP Systems, Inc. today announced the world's first and only QTS-Android Combo NAS - TAS-168 and TAS-268, which support QTS & Android dual systems. Both systems share the same storage database, allowing users to simultaneously access media files and documents from QTS and Android. With a compact mini-tower design, the TAS-168/268 comfortably fits in homes and small offices/workspaces. Coupled with up to terabytes of storage capacity and 4K (H.265 & H.264) HDMI-out, the TAS-168/268 is the optimal budget-friendly multimedia NAS with unlimited app applications for modern digital lifestyles.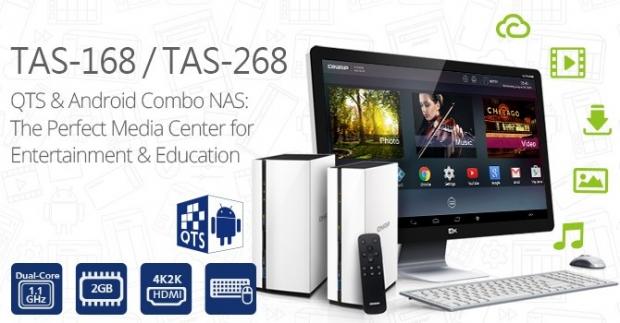 "The QNAP QTS-Android Combo NAS TAS-168/268 is an unprecedented network storage center for file storage, backup, remote access and diverse Android applications," said Hanz Sung, product manager of QNAP. "Users can enjoy video streams, use apps and manage files on a big HDMI display instead of sliding and tapping on a small screen. The TAS-168/268 makes the personal cloud experience more flexible and enjoyable."
Powered by an ARM v7 1.1GHz dual-core processor with 2GB DDR3 RAM, the TAS-168/268 supports terabytes of storage capacity and is designed as a media NAS optimized for home use. Users can simply connect a keyboard, mouse and HDMI display to directly manage, edit and play files stored on the TAS-168/268 via Android, without needing an additional PC. Using TAS is extremely easy as the Android experience is the TAS experience, and users can freely control their multimedia experience with the bundled remote control.
With the TAS-168/268, users can download various videos and educational apps from Google Play on Android, or install QNAP apps and access other app marketplaces from Qmarket. Whether enjoying 4K (H.265 & H.264) videos, streaming videos from Android apps, using apps as e-learning tools or centrally managing files, the QTS-Android Combo NAS TAS-168/268 is a great choice for enjoying infinite applications and fun.
In addition to working independently, the TAS-168/268 can also be used with another QNAP NAS to handle more applications. QTS RTRR/rsync functions helps back up files on the TAS-168/268 to another NAS. With the Android interface displayed via HDMI, users can use apps like Qphoto, Qmusic and Qvideo to browse multimedia files on another QNAP NAS, or install the Vmobile app to monitor IP cameras from the Surveillance Station of another NAS. With another NAS using QTS 4.2, users can activate the remote connection function in File Station to manage share folders in the TAS-168/268 through FTP, WebDAV, and CIFS/SMB.
With various VPN apps available in Google Play, users can stream media contents from blocked sites, or create a secure OpenVPN tunnel between the TAS and another NAS to process remote backup tasks. The TAS-168/268 is also a great file center for synchronization. Users can synchronize their files across multiple connected devices using Qsync or use Cloud Drive Sync to synchronize files to Google Drive and Dropbox.
The TAS-168/268 provides an easy way to create a secure personal cloud which alleviates the storage limitations and data security concerns of public cloud services. myQNAPcloud provides multiple remote access services for users to conveniently access, manage and share multimedia files on the TAS-168/268 from anywhere with a web browser. Users can also access and browse files on TAS-168/268 by using QNAP mobile apps including Qfile, Qphoto, Qmusic, Qvideo and Qmanager.
Key specifications of new models
TAS-168:1-bay mini-tower NAS

TAS-268:2-bay mini-tower NAS
ARM v7 1.1GHz dual-core processor, 2GB DDR3 RAM; 3.5" SATA 3Gbps HDD; 1 x USB 3.0 port; 4 x USB 2.0 port; 1 x Gigabit LAN port; 1 x HDMI output.
Last updated: Apr 7, 2020 at 12:10 pm CDT