Maker & DIY News - Page 5
The latest and most important Maker & DIY news - Page 5.
Lulzbot is one of those companies that blaze the trail in innovation and openly share their findings with everyone else. Their philosophy of Free & Libre, hardware and software is a business model that I feel more companies need to follow. Recently Lulzbot released a new video showing their new Taz 3 3D Printer printing with the companies new Ninja Flex Thermoplastic Urethane-based flexible 3D printer filament.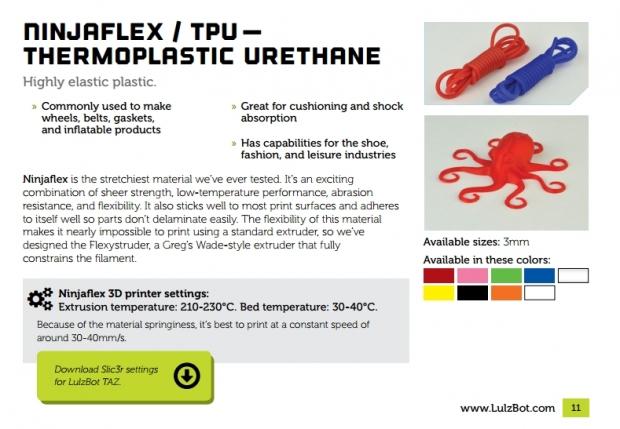 NinjaFlex is the stretchiest 3D printing material on the market at the moment and Lulzbot offers it in several colors including Red, Pink, Green, Blue, White and more. Because the NinjaFlex filament is so stretchy, Lulzbot has had to design an entirely new extruder to allow the filament to be completely constrain the filament as it enters the heat chamber. Lulzbot is calling this the new Flexstruder, and has based it on a Greg's Wade-style design.
Continue reading: Lulzbot unveils new flexible 3D Printing filament and filament guide (full post)
Today Stratasys launched what it is calling the worlds first multi-material, multi-color 3D printer that can print in several different materials and colors simultaneously. The new Object 500 Connex 3 3D Printer allows for "virtually unlimited" combinations of rigid, flexible, and color rich printing to be completed all on the same machine at the same time, and will allow engineers and designers to test multi-material prototypes right in the lab almost instantly.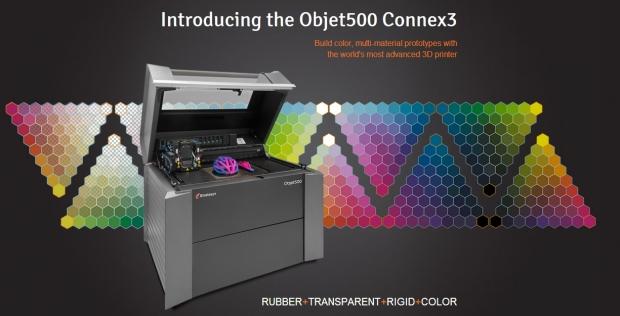 The printer features six palettes for the new rubber-like Tango color lone which includes opaque, transparent, and solid variations. Stratasys says that the new Object Connex 3 is designed with the automotive, consumer, sports, and fashion industries in mind, and the addition of flexible materials will only serve to make 3D printing an even more valuable process in every design and engineering workflow.
Continue reading: Stratasys unveils Object500 Connex Color, a multi-material 3D Printer (full post)
CES 2014 - 3D Printing was arguably the hottest category at this years Consumer Electronics Show, and we got the chance to stop by their booth on the show floor where XYZ Printing was showing off its sub $500 da Vinci 3D Printer. XYZ Printing is owned by the New Kinpo Group, a company that has been making normal printers for decades.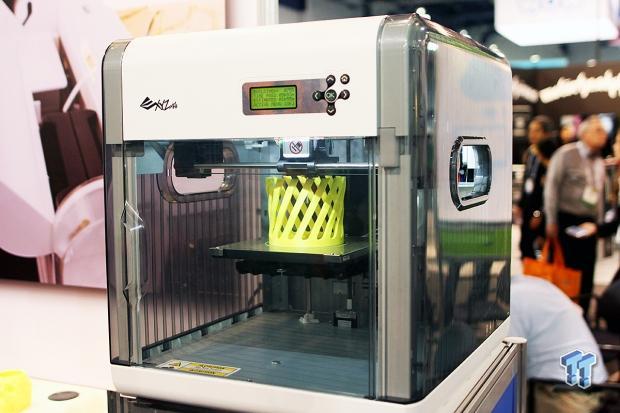 Pooling from its years of experience, XYZ Printing developed what can only be considered as one of the most refined consumer level 3D printers on the market today. The da Vinci's exterior is something that would look at home in anyone's workroom or office and would fit in alongside any other office machine. Furthermore, the da Vinci is fully enclosed which lends for a better build environment as well as acting as a safety barrier when the machine is running.
The da Vinci is a FDM-based printer and utilizes proprietary filament cartridges, which enable the company to provide consistent printing results and negates the issues with consumer supplied filament which might be of lower quality and cause issues. A build area of 7.8-inches cubed allow for large model creation, and is large enough for almost anything you need to print. XYZ has also built a "Cloud Database" which contains thousands of printable models, so users get a truly plug and play experience.
Continue reading: XYZ Printing shows off its sub $500 da Vinci 3D Printer at CES 2014 (full post)