Swiss PC cooling specialist Arctic Cooling has just announced a new member to its highly popular Accelero Series of replacement cooling for graphics cards.
The new TWIN TURBO brings compatibility for the new ATI Radeon HD 4850/4870 graphics cards as well as NVIDIA's GeForce 9600GT/8800GT offerings and many others. Two whisper quiet 80mm PWM fans (connected to the VGA's existing fan header) are used on top of a large heatsink comprising four heat-pipes and 30 aluminum fins.
As a benchmark of its performance, Arctic Cooling state that a 34c drop in temperature can be seen when using the TWIN TURBO on a 9600GT that was previously running the reference cooler.
The TWIN TURBO is said to become available sometime this month with a U.S. MSRP of $34.95. You can obtain more details on the cooler and the graphics cards it supports
here
.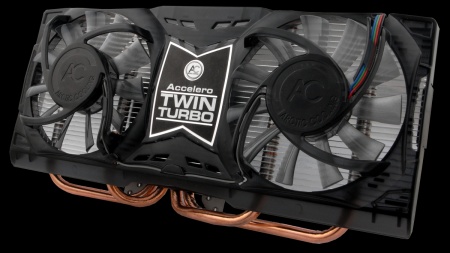 (Pfäffikon/Switzerland, 2 July 2008) The Swiss cooling solutions provider ARCTIC COOLING today announced the launch of the dual-fan Accelero TWIN TURBO, adding another multi-compatible high performance merchandise into their reputable VGA cooler product line.

Featuring 4 heat pipes, 30 fins and 2 PWM fans, the Accelero TWIN TURBO optimises airflow to 40 CFM, and achieves up to 120 Watt cooling capacity. Together with memory and voltage regulator cooling, this new VGA cooler gives enthusiasts a very promising result - 34°C lower than the nVIDIA GeForce 9600GT stock cooler. With such phenomenal cooling performance, the Accelero TWIN TURBO also maximizes the overclocking potential and extends the service life of your graphics card.