Ready for PCI Express 3.0? - It's coming late 2010
300 watt and three slot VGA cards on the horizon.

Published Thu, Jun 12 2008 4:36 AM CDT
|
Updated Tue, Nov 3 2020 12:38 PM CST
Mark Hachman over at ExtremeTech managed to attend a press conference this week held by the PCI Special Interest Group chairman Al Yanes.
Are you ready for this? In the presentation plans to support 300-watt graphics cards taking up three slots were discussed. You did read that correctly!
Right now even the highest performing GPU's don't come close to using 300 watts in a single graphics card setup but this could become the norm for high-end graphics cards in a year or two from now. Does that really mean we'll need to use up six slots for a SLI or CrossfireX setup? There will be hardly any room left for anything else to fit in like TV tuners or sound cards.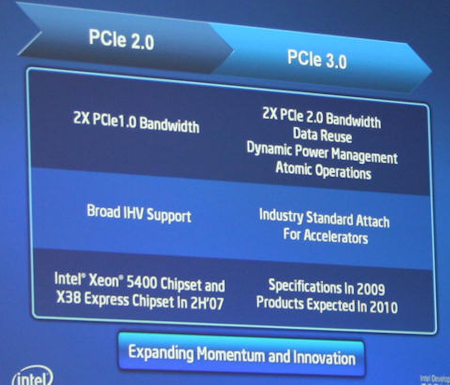 The good news from the press conference is that the connectors of PCI Express 3.0 slots will go unchanged which means that if you buy a motherboard with the new connector, you'll still be able to use your "old" PCI Express 2.0 products due to the backwards-compatible nature employed.
If everything goes to plan, PCIe 3.0 will offer up twice the total theoretical bandwidth of PCIe 2.0, by removing the requirement for an 8-bit/10-bit encoding setup that is found in the current version. That means you'll see folks like AMD and NVIDIA (and Intel probably soon) launching graphics cards that use up to 32 PCIe 3.0 lanes of bandwidth delivering a staggering eight gigatransfers per second bit rate.
Don't get into too much of a panic right now. The PCI Special Interest Group says that the specification will be finalized late in 2009 with testing beginning about a year later. You may see products begin to surface in late 2010 or 2011.
You can read the reports by ExtremeTech
here
and
here
.