Intel Computex Keynote Speech coverage
Briefed us on Atom and P45 and Centrino 2.
Published Tue, Jun 3 2008 3:40 AM CDT
|
Updated Tue, Nov 3 2020 12:38 PM CST
COMPUTEX TAIPEI 2008
Day 1 of Computex 2008 sees Intel announcing and demonstrating its latest additions to its processor and chipset families - Atom now takes its place in Intel's processor line-up with other names like Pentium and Core.
Opening the show Mr. Yuen-Chuang Chao reiterated on the products that would come to light including Wi-Max as well as officially opening e21 Forum 2008 while Shawn Maloney put an appearance by video in a rather comical approach, which was nice and light. Using a live demo of the Wi-Max streaming media.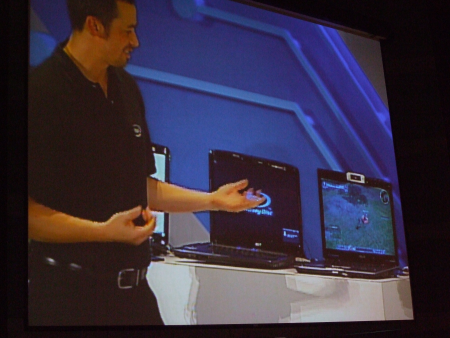 When coming on stage he introduced the Centrino 2 platform. While a small demo of Wi-Max was good, Shawn didn't stop there. Using some rather nifty software he was able to show us some streaming 720p media of cameras out and around Taipei. We also learnt that today, Wi-Max was officially turned on around Taipei by the president of Taiwan.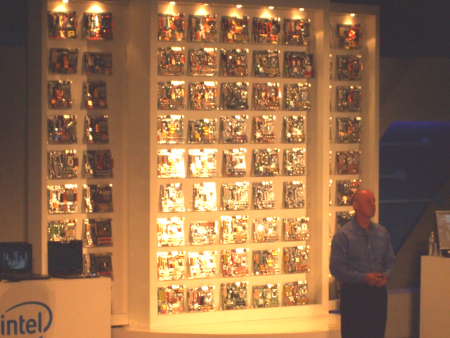 After giving us some Wi-Max info, Shawn moved on to introduce the newest chipset series known as the 4 series encompassing the already tested P45, G45 with more to come for the value market. A demo system containing a 45nm Penryn running 1333MHz FSB, 2GB of DDR3-1333Mhz memory running Crysis, again Wi-Max came into play allowing a MID (Mobile Internet Device) to have Crysis streamed to it.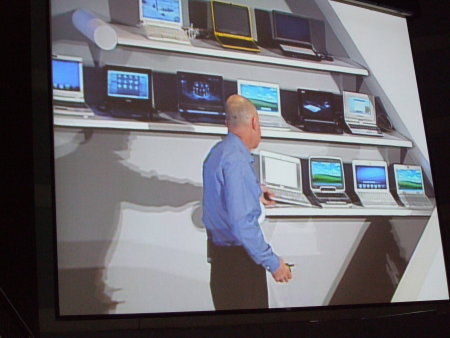 After the chipsets Shawn moved onto Atom, the new chip to revolutionize the low power PC and MID department, unveiling a hidden compartment on stage, a plethora of netbooks using the Atom based processor including the new ASUS Eee PC and MSI's Wind. While not a huge amount of information on the chip went into this, Intel's second launch straight after the keynote was to bring Atom to life.
Lastly on the list, Intel were kind enough to roll out a working demo unit, while the speed and specs are a closely guarded secret, it did demonstrate some rather heavy software used for digital media storage.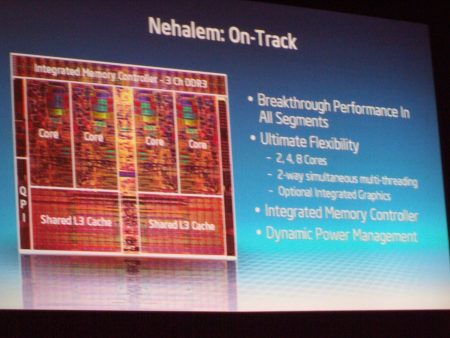 Nehalem core diagram was shown to us on the big screen for all to see.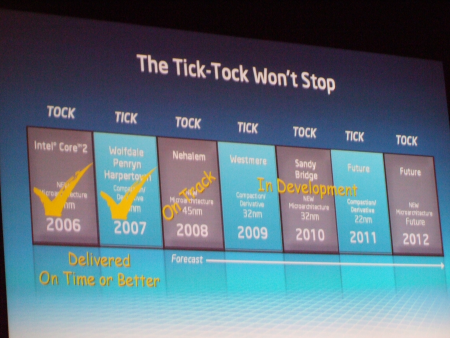 Lastly Intel strongly stated that this is only the beginning with their phrase the tick tock won't stop, referring to Moore's law.