AMD is prepping to release a new flagship RDNA 3-powered laptop GPU, the Radeon RX 7900M. Designed for high-end gaming notebooks and laptops, it's set to go head-to-head against NVIDIA's GeForce RTX 40 Series laptop graphics cards. And based on some Geekbench 6 benchmarks (via @BenchLeaks), it could give the GeForce RTX 4090 laptop GPU a run for its money.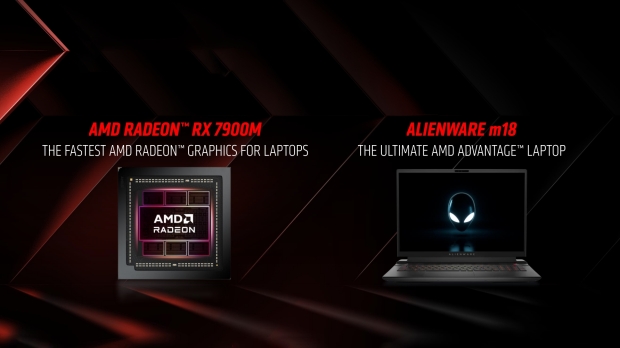 However, we're discussing theoretical performance and a single Vulkan API test where the Radeon RX 7900M outperforms the RTX 4090 laptop GPU by around 9%. When stacked up against the RTX 4090 laptop GPU in an OpenCL benchmark, it does fall behind by about 25%.
These benchmarks aren't always a good measure of in-game performance, but the numbers are still impressive. So, chalk this up as good news for those looking for a high-end gaming laptop with Radeon graphics.
Like all mobile GPUs, the Radeon RX 7900M is a cut-down version of the Navi 31 graphics processor - with 72 Compute Units compared to the desktop Radeon RX 7900 XTX's 96 Compute Units. Clock speeds are lower, too, at 1825 MHz compared to 2500 MHz in the desktop variant.
Looking at raw performance, the Radeon RX 7900M can push 38.5 FP32 TFLOPS, which is not that far behind the GeForce RTX 4090 Laptop GPU's 39.7 FP32 TFLOPS. So even if it falls behind the GeForce RTX 4090 laptop GPU when it comes to in-game performance, there's a good chance the Radeon RX 7900M will look very good compared to the GeForce RTX 4080 laptop GPU.
It's also worth noting that with the Radeon RX 7900M featuring a power rating of 180W, the GeForce RTX 4090 laptop GPU's power rating of up to 150W will see NVIDIA take the efficiency crown just like it has when it comes to the desktop variants.
Also, the system benchmarked to get these early results for the Radeon RX 7900M was an Alienware M18 R1 laptop, and the recorded frequency of 1736 MHz was lower than AMD's spec for the GPU. This could mean some Radeon RX 7900M laptops could be clocked higher than others.
The real test will come when reviewers get their hands on the GPU and can put it to the test in games like Cyberpunk 2077, Call of Duty, and even more game-friendly synthetic benchmarks from 3DMark. Stay tuned on that front.