AMD has some impressive tricks up its sleeve for gamers and content creators with its CPUs packing in-house 3D V-Cache technology, with two new offerings in the works: the Ryzen 7 5700X3D and Ryzen 5 5500X3D processors.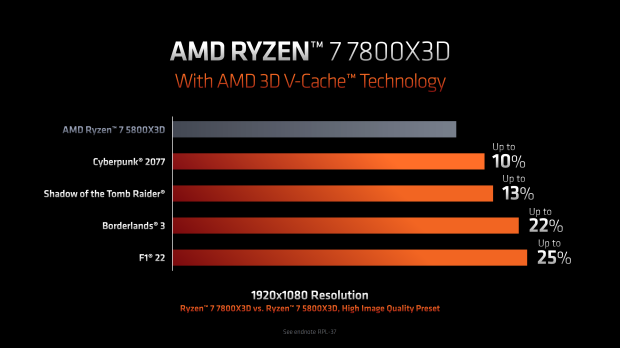 The latest leaks are teasing the 8-core Ryzen 7 5700X3D, which will reportedly have a base clock of 3.0GHz and a boost clock of 4.1GHz. We expect the Ryzen 7 5700X3D processor to have CPU clocks 400MHz slower than the Ryzen 7 5800X3D, one of the most popular CPUs of the last couple of years.
Secondly, we'll have the 6-core Ryzen 5 5500X3D processor with base CPU clocks of 3.0GHz and boost clocks of up to 4.0GHz, which leaves CPU clock speeds down 300MHz to 400MHz under the Ryzen 5 5600X3D processors. We are also being told that the AMD Ryzen 7 5700X3D and Ryzen 5 5500X3D processors will both have 96MB of 3D V-Cache.
AMD has a bunch of X3D processors in the wild already, but there are only two of them in the Ryzen 5000 series CPU family: Ryzen 7 5800X3D and Ryzen 5 5600X3D processor. The newer Ryzen 7000 series X3D processors are even better, with the Ryzen 7 7800X3D, Ryzen 9 7900X3D, and flagship Ryzen 9 7950X3D processors joining the X3D party earlier this year.
But, new AM4 processors with 3D V-Cache are impressive to see... AMD breathes even more life into the AM4 platform while providing kick-ass lines of CPUs for the AM5 socket right up to the flagship 16-core, 32-thread Ryzen 9 7950X3D processor. However, the best gaming CPU would have to be the Ryzen 7 7800X3D processor, an 8-core, 16-thread beast that beats the 7950X3D in gaming because there is a single CCD on the 7800X3D versus the dual CCDs on the 7950X3D.
If you've got an older AM4 motherboard and didn't want to upgrade to a new AM5 motherboard and then buy a new DDR5 memory kit alongside a new Ryzen 7000 series CPU, then the new Ryzen 7 5700X3D and Ryzen 5 5500X3D processors should be on your radar right now.
I can see system builders using these new CPUs to inject life into AM4 platforms, especially if they've got stacks of low and mid-range AM4 motherboards in warehouses. Gamers will love it, as they should be a couple of hundred dollars... and not the $300, $400, and $500+ premium for higher-end Intel and AMD processors.