This year's N7 Day kicks off with a bang as BioWare releases cryptic footage from its new Mass Effect game.
BioWare has been silent about the next Mass Effect game for a while, but that's changed with this year's N7 Day. The studio released a new 30-second teaser trailer that has sent Mass Effect faithful buzzing about the possibilities. BioWare released three small teasers entitled Epsilon, Defiance, and Nebula, then combining all three clips into the trailer above.
"Not everything is as it seems," Mass Effect project director Mike Gamble said on Twitter. Gamble also confirmed the footage was indeed in-engine.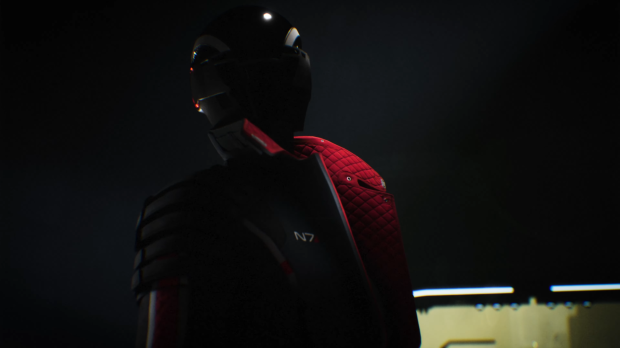 This message was included in the teaser:
/////ACCESS CODE: EPSILON
/////ACCESS CODE ACCEPTED
/////SECONDARY ENCRYPTION DETECTED
/////VJBSVU-XXXX-XXXXXXXX
/////ANDROMEDA DISTRESS SIGNAL DETECTED
/////YEAR SENT: [REDACTED]
/////AUDIO TRANSCRIPT: ALTHOUGH THEY SHOULD KNOW BY NOW NOT TO UNDERESTIMATE HUMAN [REDACTED]
Gamble has released what looks to be official key art--or at least promo art--for Mass Effect 4, which of course has kicked off even more speculation among fans.
"We've thrown you so many bones. You're drowning in bones," Gamble responded when asked by a fan if he could throw them a bone in regards to the various guesses made in the high-res key art.
In an official N7 Day blog post, Gamble talked about the passion that's involved with forging the future of the franchise:
"That process is equal parts rewarding and challenging. We've asked ourselves many of the same questions you've asked us over the years!

"What happened to everyone you know and love in the games? Who really died? Who had kids with whom? What does a baby volus sound like? What about all the galaxies? The endings! What the heck is going on with our asari scientist-turned-Shadowbroker? What about S- nevermind...you get the idea.

"And of course, to those questions, there are answers, but you'll have to wait to hear them."
It's possible that BioWare will reveal more details at The Game Awards 2023 next month in December.