At BlizzCon 2023, the Diablo IV team took the stage to celebrate this year's launch of the highly anticipated game, dropping stats like players spending over 1.5 billion hours in Sanctuary and how the current (and positively received) Season of Blood produced 14,000 words of Patch Notes driven by community feedback.
Expansions and Diablo go hand-in-hand, but it seems that Diablo IV will be taking a more WoW-like approach in that multiple expansions will be released - and the very first got announced alongside a teaser trailer confirming that it's on track for a late 2024 launch.
Diablo IV: Vessel of Hatred, as previous leaks have suggested, continues the story laid out by Diablo IV's main campaign, with the main villain looking to be Mephisto, the Lord of Hatred. The teaser trailer was light on details, but it has confirmed the expansion's setting - the lush jungles of Torajan. A location last seen in Diablo II.
"Vessel of Hatred continues the grim tale that began in Diablo IV, as you learn the fate of the prime evil Mephisto and his demonic plans for Sanctuary. To do that, you'll visit a region new to Diablo IV, known by the locals as Nahantu. With this continuation of the campaign's story comes new ways to play, new evils to vanquish, and a brand-new Class never before seen in the Diablo universe."
Per the description above, the expansion will also introduce a new playable class to the game - and it'll be something new for the franchise. This is excellent news, as even though it would be nice to see classes like Paladins or Crusaders return, something new could shake up how we all view traditional Diablo builds.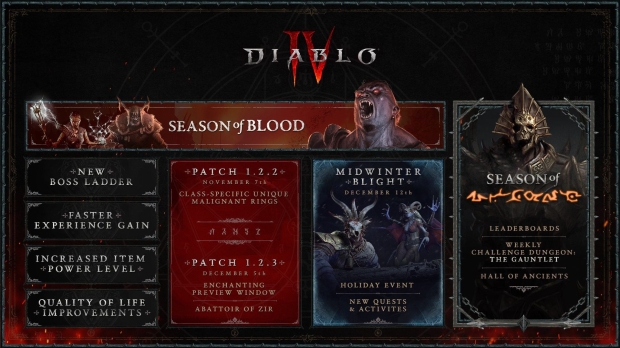 We'll have to wait until Summer 2024 to find out more (most likely at the next Xbox Summer Showcase event now that Blizzard is an Xbox studio), but in the meantime, there's plenty more Seasonal action to come. Next week, the current Season of Blood is getting an update to introduce new Unique rings for each Class based on the Season of Malignant powers. Then, in December, a holiday-themed Midwinter Blight event is coming to the snowy Fractured Praks region.
The team also dropped some info on the third season that will kick off in early 2024; it will introduce Leaderboards to the game and weekly challenge dungeons as part of The Gauntlet. Diablo IV launched in June of this year; the pace of the post-launch support has been impressive and shows no signs of slowing down.