NASA's James Webb Space Telescope (JWST), the world's most powerful space telescope, has detected an extremely rare explosion caused by the merger of two stars.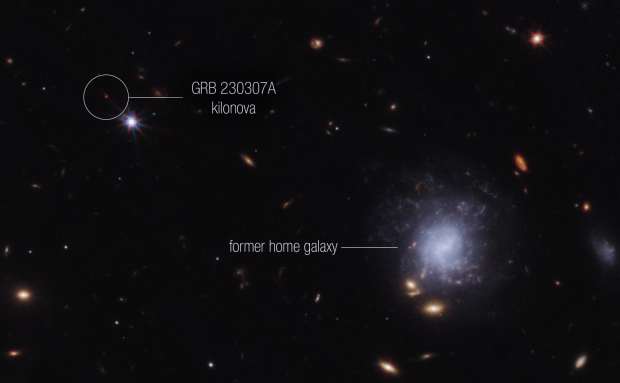 Webb wasn't the only telescope involved in these observations as researchers used data acquired by NASA's Fermi Gamma-ray Telescope, and NASA's Gehrels Swift Observatory in addition to the data provided by Webb. The instruments detected an incredibly bright gamma-ray burst, now called GRB 230307A, which was caused by an explosion as a result of two neutron stars merging. Webb's instruments specifically assisted researchers in identifying the chemical element tellurium, which was produced shortly after the explosion took place.
Scientists call the explosion caused by the merger of two neutron stars, or a neutron star and a black hole - a kilonova. NASA writes in its blog post found on its website that observations such as the detection of the heavy element tellurium help researchers in piecing together how life on Earth eventually came into existence. The space agency writes, "Other elements near tellurium on the periodic table - like iodine, which is needed for much of life on Earth - are also likely to be present among the kilonova's ejected material."
"Just over 150 years since Dmitri Mendeleev wrote down the periodic table of elements, we are now finally in the position to start filling in those last blanks of understanding where everything was made, thanks to Webb," said Andrew Levan of Radboud University in the Netherlands and the University of Warwick in the UK, lead author of the study.
Webb's instruments traced back the explosion to a spiral galaxy approximately 120,000 light years away from Earth.
"This type of explosion is very rapid, with the material in the explosion also expanding swiftly," said Om Sharan Salafia, a co-author of the study at the INAF - Brera Astronomical Observatory in Italy. "As the whole cloud expands, the material cools off quickly and the peak of its light becomes visible in infrared, and becomes redder on timescales of days to weeks."