A group of astronomers have detected an ancient radio burst that is now the most powerful ever intercepted of its type.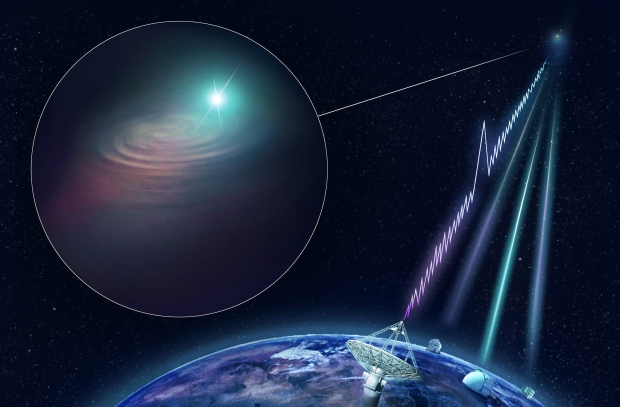 The new study has been published in the journal Science and details the detection of a Fast Radio Burst (FRB), a mysterious radio signal that currently doesn't have an entirely agreed-upon explanation. Astronomers have detected FRBs before, but according to the recently published study, the one dubbed FRB 20220610A that was discovered in June last year by the ASKAP radio telescope array is by far the biggest.
The team traced back the radio signal to its source and found it traveled 8 billion light years before reaching Earth and likely originated from a cluster of merging galaxies home to many newly born stars. So, where does the radio signal actually come from? One theory suggests they are created by neutron stars, the collapsed dead remnants of stars once like our Sun. Notably, this particular FRB generated the same amount of power the Sun generates over 30 years, but in a millisecond.
"That is enough power to microwave a bowl of popcorn about two times the size of the Sun," study co-author Ryan Shannon, an astrophysicist at the Swinburne University of Technology, told New Scientist.
"The paper confirms that fast radio bursts are common events in the cosmos and that we will be able to use them to detect matter between galaxies, and better understand the structure of the universe," Shannon said in a statement about the work.
Discoveries such as this will assist astronomers in detecting the undiscovered matter between galaxies, a promising step toward understanding the confusing gap between how much matter should be in the universe, and how much is currently measurable.
"Fast radio bursts sense this ionized material," Shannon explained in the statement. "Even in space that is nearly perfectly empty they can 'see' all the electrons, and that allows us to measure how much stuff is between the galaxies. If we count up the amount of normal matter in the Universe - the atoms that we are all made of - we find that more than half of what should be there today is missing."