The video games industry has laid off more than 6,000 employees across all disciplines, startlingly disappointing figures from Video Games Layoffs.com indicate.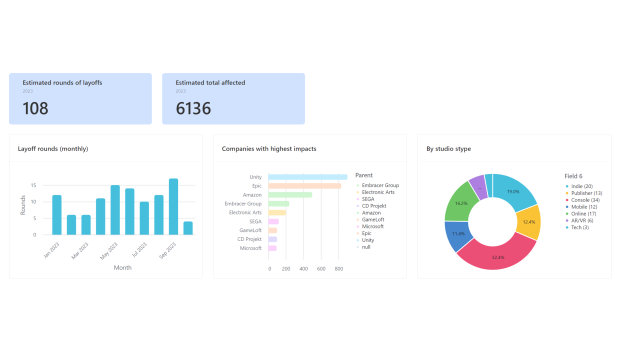 Most of the popular video game-related aggregator websites will track things like review scores, how many players are actively playing a specific game, or the prices of the games themselves. One site chronicles the more depressing state of the world's leading entertainment space: How many people have been laid off and let go, often from companies that generate billions of dollars of revenue a year.
According to the Video Games Layoffs website, an estimated 6,100 workers in the video games industry have been laid off throughout 2023 so far. The data includes games-related layoffs across platform-holders and game developers big and small, ranging from the Xbox games division and SEGA to the engine-makers at Unity and Epic as well as smaller-scale devs like Telltale Games.
The layoffs contrast with the highly profitable video games market that routinely generates nearly $200 billion a year. According to analyst firm Newzoo, gaming is expected to make over $187 billion in 2023.
There's some caveats with the data, namely with accuracy. The creators note that the data is based on a mixture of estimates and verified info from the publishers/developers/organizations.
"This page should not be considered as a singular source of truth. The numbers, unless officially given are best estimates (usually rounded down), along with general dates that follow a similar rule.

"Currently development, and related studios are looked at. If a larger company with gaming studios - such as Meta, Microsoft and Sony, have layoffs - this page will only include impacts to those divisions (or best estimates). Folks are always welcome to go to layoffs.fyi for larger tech related layoffs.

"Currently the page does not track: eSports orgs and media websites. This will likely change in the future but at the moment the focus is solely on development and I think both media and eSports have had good coverage of impacts.