Reddit is changing the way it works in terms of the adverts the platform serves up to users, specifically making it so that some folks won't be able to opt out of targeted ads being served based on their activity.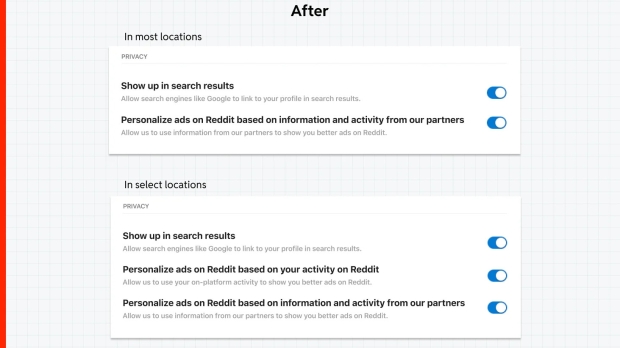 A bunch of changes are coming in, as announced by Reddit's global head of privacy and assurance, Jutta Williams (well spotted, The Verge).
The controversial bit, though, is that at least for some regions, Reddit is going to remove the choice to not have adverts personalized based on what you do on the platform.
Williams explained:
"Reddit requires very little personal information, and we like it that way. Our advertisers instead rely on on-platform activity - what communities you join, leave, upvotes, downvotes, and other signals - to get an idea of what you might be interested in."
She assures Redditors that the 'vast majority' won't see any change to the advertising presented to them on Reddit, and that those who previously chose to opt out of personalization, and now won't be able to, will not see more adverts as a result.
They will, however, encounter more relevant ads (of course), but the change won't involve sharing on-platform activity with advertisers, we're told.
Some countries will still get the ability to swerve targeted adverts, though, but we aren't told what those regions might be - presumably Europe (where data regulations could prove a thorn in the side of this new concept).
This change, and a fair raft of others, will be rolling out in stages over the next few weeks, Williams says.
A negative reaction
Predictably, the reaction to this move has been pretty negative to say the least. People don't like having choice removed from them anyway, as a rule, and if they've previously selected to avoid having personalized ads, having the option removed is clearly going to grate.
Much of the immediate feedback to the move has been a predictable angle along the lines of: well, stuff your ads anyway, I won't see any because I'll be blocking them.
Williams further clarified that the update does not change the way Reddit collects or shares data in any way, adding: "This data informs how we target ads on our platform. We do not share your information or activity with third parties for advertising outside Reddit."
In other words, seemingly no specific data on individual users will be shared with advertisers on the platform, but those advertisers will be given the ability to pitch to certain audiences or blanket categories of Redditor in the hope of a more effective response.
There are a lot of unhappy Reddit users, though, not pleased with the clarifications that have been thus far aired on this new policy, which will clearly not be a popular one.
On the other hand, some other tweaks being made to ad settings are going to be better received. For example, Reddit is adding functionality to allow users to choose to see fewer ads from certain categories.
That includes the following: Alcohol, Dating, Gambling, Pregnancy & Parenting, and Weight Loss. Any user can elect to limit the number of adverts they will be served in those areas.