Recently, we had the chance to go hands-on with Samsung's Odyssey Neo G95NC, an impressive 57-inch 32:9 aspect ratio ultrawide gaming monitor. With its 1000R curvature, Quantum Matrix Technology (mini-LED) for brightness and contrast, 240Hz refresh rate (over DisplayPort 2.1 and HDMI 2.1), and 1ms response time, it's no wonder we called it "simply mind-blowing."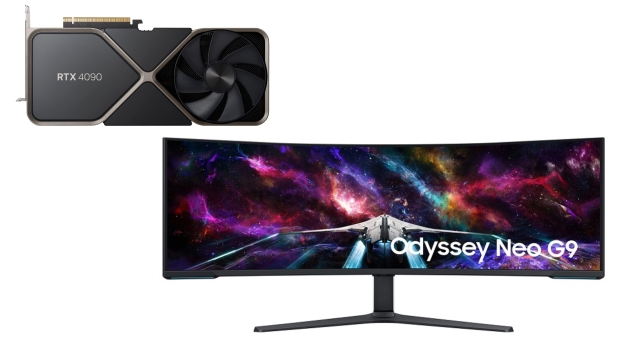 Throw in a resolution of 7,680 x 2,160, and Samsung is touting it as the world's first dual-4K gaming display - essentially two high-end 4K monitors Frankenstein-ed into a brand new monster. With a price tag of USD 2,499, the Samsung Odyssey Neo G9 is a luxury item destined for the most lavish dedicated PC gaming spaces.
And with that, you'd assume that an incredible over-the-top beast of a gaming monitor would demand to be paired with the most powerful GPU currently available - the NVIDIA GeForce RTX 4090. Well, it turns out there is one major problem. Connecting NVIDIA's flagship gaming GPU with Samsung's Odyssey Neo G9 limits the 8K (or dual 4K) output to 120 Hz.
Being able to deliver an 8K ultrawide image (7,680 x 2,160) at 240 Hz, it seems like the GeForce RTX 4090 can't keep up. What makes this a little strange is that even though the GeForce RTX 4090 doesn't support the new DisplayPort 2.1, the full HDMI 2.1 spec of the card should theoretically have enough bandwidth to support 240 Hz - as its possible with the Radeon RX 7900 XTX over HDMI 2.1.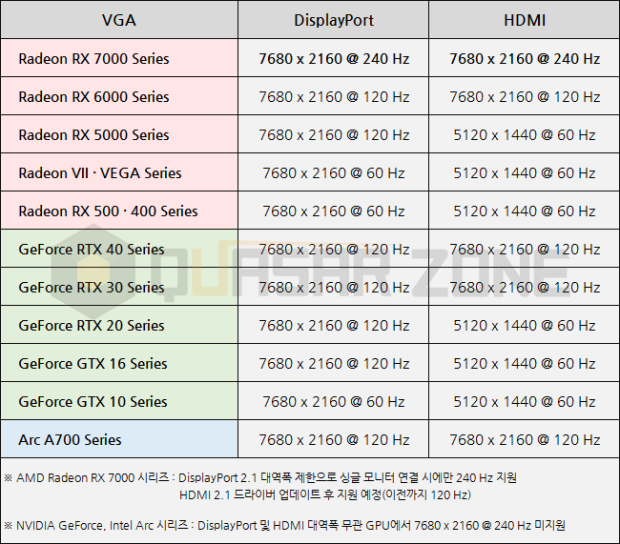 One reason the card might not support the full resolution of the Samsung Odyssey Neo G9 could come down to the "Display Stream Compression" (DSC) technology used for high-resolution and multi-display output - with Reddit user Ratemytinder22 noting that it's hitting a bottleneck when pushing the output through a single port.
NVIDIA's specs for the GeForce RTX 4090 list the maximum capabilities as "4 independent displays at 4K 120Hz using DP or HDMI, 2 independent displays at 4K 240Hz or 8K 60Hz with DSC using DP or HDMI." Could support be added as part of a driver update? That remains to be seen.
The only GPUs capable of supporting the Samsung Odyssey Neo G9 at the full dual 4K 240Hz are AMD's Radeon RX 7000 Series - and the flagship Radeon RX 7900 XTX. AMD's new RDNA 3 generation supports the new DisplayPort 2.1 spec, which offers enough bandwidth, while NVIDIA's Ada generation does not. Still, there's no modern AAA that you can run at this insane resolution at a full 240fps with detail settings cranked on either a Radeon or GeForce GPU. So even though Samsung has made 8K (or dual 4K) 240 Hz gaming a reality, we're still a generation or two away from it being an actual reality.