NASA's Hubble Space Telescope has snapped an incredible image of a "bridge" between two colliding galaxies located nearly 500 million light years away from Earth.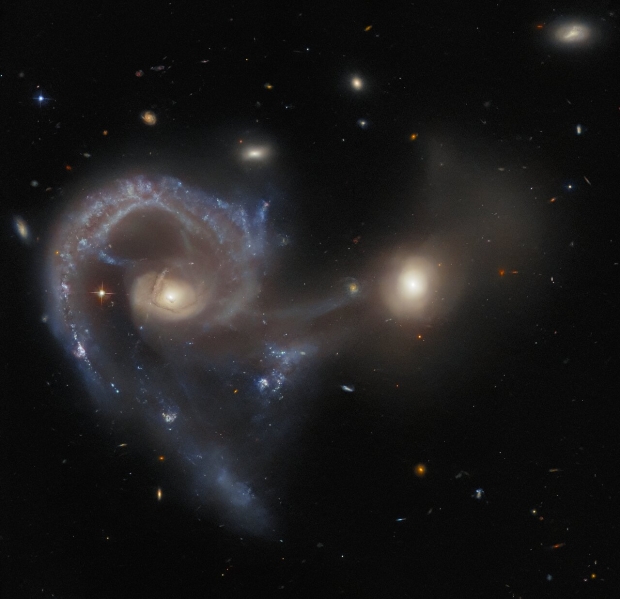 The European Space Agency (ESA) has released the image of Arp 107, a pair of galaxies that are slowly but surely merging to form a massive galaxy. Using its Advanced Camera for Surveys, NASA and the ESA's Hubble Space Telescope snapped an image showcasing the faint "bridge" linking the two galaxies.
The galaxy on the left is a Seyfret galaxy, which is a galaxy that houses an active galactic nuclei, or supermassive black hole at its core. The black hole-consuming matter results in a strong glow, as displayed by the image.
The smaller galaxy on the left-hand side of the image is seemingly connected to its companion galaxy by a "bridge" that consists of dust and gas. The smaller of the two still has a bright core but seemingly lacks the iconic long spiral arms that it's companion boasts. The larger of the two galaxies has stripped its smaller companion of its spiral arms as it makes its slow consumption.
"The larger galaxy (on the left of this image) is an extremely energetic galaxy of a type known as a Seyfert galaxy, which house active galactic nuclei at their cores. Seyfert galaxies are notable because, despite the immense brightness of the active core, radiation from the entire galaxy can be observed.

This is evident in this image, where the spiraling whorls of the whole galaxy are readily visible. The smaller companion is connected to the larger by a seemingly tenuous 'bridge', composed of dust and gas. The colliding galactic duo lies about 465 million light-years from Earth," writes the ESA