Intel has officially announced the capabilities of the Thunderbolt 5 standard that comes with massive upgrades. For example, 120 Gbps bandwidth, 240W charging, and many other impressive performance leaps.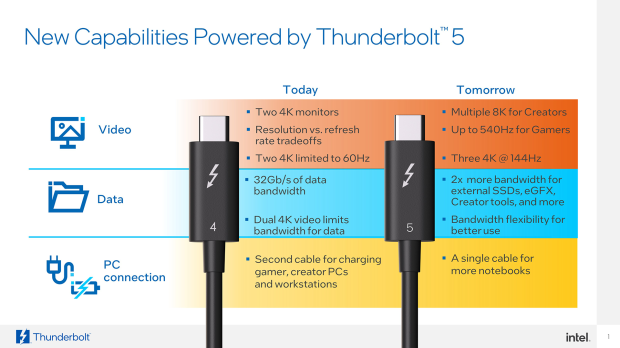 The company took to its website to share a press release that reveals what we can expect out of Thunderbolt 5, and according to Intel, "deliver significant improvements in connectivity speed and bandwidth benefits". Jason Ziller, the general manager of the Client Connectivity Division at Intel, said that Thunderbolt 5 will be aimed at providing high-speed connectivity to demanding users looking to take advantage of monitors, docks, storage options, and more.
The next-generation connectivity standard will deliver 80 gigabits per second (Gbps) of bi-directional bandwidth, with the Bandwidth Boost technology pushing its capabilities up to 120 Gbps. This jump in bandwidth is three times the currently most powerful connectivity solution. For comparison, Thunderbolt 3/4 is capped at 40 Gbps, which may not be enough for creators running multiple high-resolution monitors. However, with the extra headroom in Thunderbolt 5 (120 Gbps), users will be able to connect multiple 8K displays.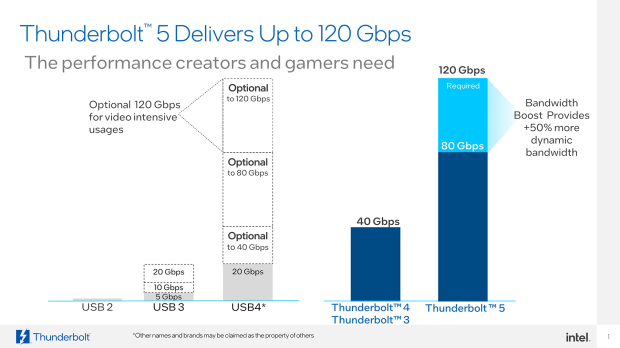 Additional improvements come in the form of support for up to 520Hz monitors, which is just an insane refresh rate that only a select few monitors come with. Regardless, Thunderbolt 5 can do it. There is also support for three 4K displays at 144Hz, along with compatibility with next-gen DisplayPort 2.1, USB v4, USB 3 20G, and PCIe Gen4, which enables much faster data transmission rates. Charging capabilities are increased to 240W. Thunderbolt 5 adoption in devices will likely happen by the end of this year, with devices next year being rolled out with the new standard.