Although a lot of the focus in 2023, at least when it comes to SSD performance, reviews, and news, has been on the new PCIe Gen5 technology - where we're seeing some massive speed increases over the previous generation and massive SSD coolers to keep the temperatures down. However, PCIe Gen4 is still the go-to option for many because it's more affordable and can deliver when it comes to speed.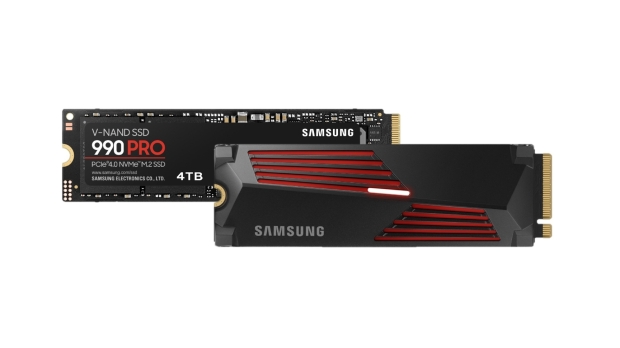 The Samsung 990 PRO Series debuted in 2022 and earned critical acclaim (including a couple of Editor's Choice awards at TweakTown) due to its price, performance, and overall design. So then, why is Samsung 990 PRO back in the headlines? When Samsung first showcased the series, it noted that a 4TB model and variant was on the cards for 2023.
So yeah, the 4TB variant of the Samsung 990 PRO is finally here (with an MSRP of USD 349.99), with a baseline Samsung 990 PRO 4TB model hitting retail this month and a Samsung 990 PRO with Heatsink coming in October 2023.
"Offering blazing-fast speeds and ultimate power efficiency, the 990 PRO series is optimized for massive data volumes, such as 3D/4K graphics work, data analytics, and high-quality games, making it the ideal SSD for today's PCs, laptops, game consoles, and computing systems," writes Samsung in the press release. And with total bytes written (TBW) ratings of up to 2,400TB, it's a range of SSDs built to last.
Samsung also notes that the new 4TB 990 PRO features "the fastest random read performance among PCIe 4.0 interface consumer SSDs on the market," which is impressive. And like the smaller capacity versions, the 990 PRO 4TB offers fast read speeds of up to 7,450 MB/s and write speeds of up to 6,900MB/s.
The Samsung 990 PRO 4TB would be great for PC gaming. And with that, the Heatsink version would be pretty sweet to slap into a PlayStation 5. Enough to install all those PlayStation Plus freebies. Though with the 2TB version currently being sold with a sizeable discount, going 4TB does come at a cost - more money.
Here's a look at the specs.
Samsung SSD 990 PRO and Samsung 990 PRO with Heatsink

Interface: PCIe Gen 4.0, x4, NVMe 2.0

Form Factor: M.2 (2280)

Storage Memory: Samsung V-NAND 3-bit TLC

Controller: Samsung In-house controller

Capacity/DRAM: 1TB (1GB LPDDR4), 2TB (2GB LPDDR4), 4TB (4GB LPDDR4)

Sequential Read/Write Speed: up to 7,450MB/s, up to 6,900MB/s

Random Read/Write Speed (QD32): up to 1,600K IOPS, 1,550K IOPS

Management Software: Samsung Magician Software

Data Encryption: AES 256-bit Full Disk Encryption, TCG/Opal V2.0, Encrypted Drive (IEEE1667)

Total Bytes Written: 600TB (1TB), 1200TB (2TB), 2400TB (4TB)

Warranty: Five-year Limited Warranty