If you have picked up Starfield and you are going through your first play-through, you may want to consider getting a romantic partner, and it's not just for the visual aspects.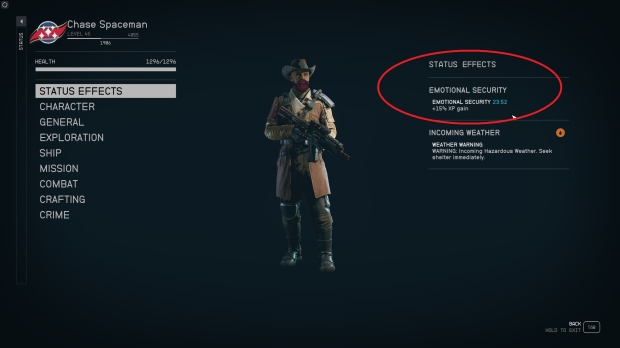 Most gamers on their first play-through of a new open-world RPG title won't pursue romantic partners, or at least it's not very high on the to-do list. However, a recent article from PCGamer has pointed out, first discovered by VG247, that Starfield has a strong incentive to do very much that, as having sex with your in-game romantic partner grants your character a 15% XP boost for 24 real minutes. This status boost is, funnily enough, called "Emotional Security" and, as stated previously, will boost all experience gained for nearly half an hour of Earth time.
Notably, this status effect is similar to the "Well Rested" 10% XP bonus that's granted to your character when you sleep in a bed. However, 15% is obviously higher than 10%. A caveat to this buff is that players won't be able to have one-night stands with NPCs, and there are only a few select NPCs that are interested in sleeping with players. But, according to reports, its quite easy to get an NPC to fall in love with you.
All players will have to do is bring them along on adventures, don't commit crimes, and eventually, a "flirt" dialogue option will be unlocked. These options lead to love, marriage, and then, well, you know, a massive temporary XP buff that's worth getting.