Microsoft has announced that its long-running WordPad app will no longer be updated, and it will be removed in a future release of Windows. WordPad, which first debuted almost three decades ago as a part of the (then) brand-new Windows 95, has been a Windows staple for so long it will be weird to see it go.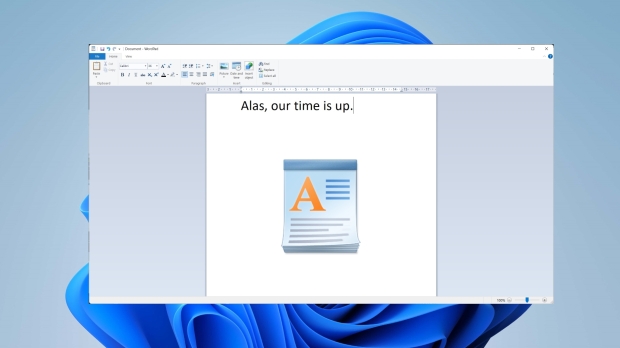 That said, it's an app that I personally haven't opened in a long, long time - with my main memories surrounding WordPad being that it was a great tool for opening MS Word .doc files without having to shell out for a copy of the (then) gold-standard word processor.
Although the demise of WordPad didn't get a formal standalone announcement, its retirement from future versions of Windows was added to Microsoft's list of 'deprecated features' for the OS, which also includes entries for Cortana in Windows and a bunch of other tools and features that are no longer being updated or have been superseded with other tools or apps.
Although it is weird to see WordPad go after so many years in the Windows trenches, a standalone word processor without online functionality or modern features doesn't really make sense in 2023. The best free word processors of 2023, in no particular order, are:
LibreOffice Writer - a feature-rich word processor that includes template and plug-in support and works across Windows, macOS, and Linux.
Google Docs - the online staple for word processing that is up there with Microsoft Word in terms of capabilities; plus, it's all online, works well on mobile, and you get 15GB of free storage.
WPS Office Writer - WPS Office is a free ad-supported Office suite, and the Writer app looks and behaves almost identical to Word, and you get cloud storage for documents.
Although WordPad kind of sat in the middle between Notepad and Word, if Microsoft tries to remove Notepad from Windows, that'll be a dark day for the OS.