Razer CEO Min-Liang Tan has shared images of the most opulent and over-the-top PC gaming peripheral we've ever seen, a 24-karat gold Viper Signature Mini gaming mouse. Min-Liang Tan is aware of how crazy this is, calling it "insanely over the top and special," adding that this is a one-time commission and not something that will pop up in jewelry stores worldwide.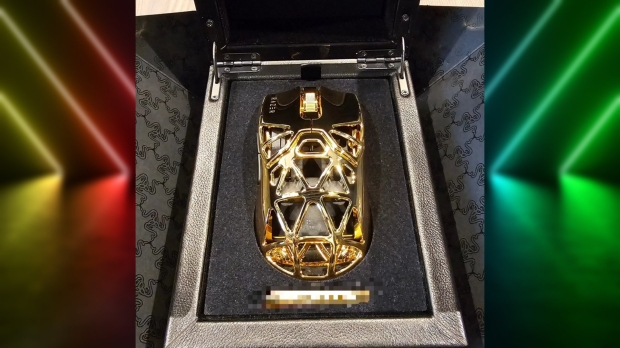 However, gold-plated and diamond-encrusted PC peripherals are a pretty cool idea for a jewelry store that caters to gamers with trust funds and black-colored credit cards. The Razer Viper Mini Signature Edition was announced earlier this year with a premium price tag of USD 279.99 due to its lightweight construction featuring an "ultra-durable magnesium alloy exoskeleton."
So yeah, this new one-of-a-kind shiny and over-the-top gaming mouse is that, plus a layer of 24-karat gold. At least, that's our assumption, as the post doesn't specify whether it's gold-plated or made from solid gold. We can only imagine what it would feel like to play a round of Apex Legends or CS:GO with this in the palm of your hand.
The Razer Viper Mini Signature Edition you can purchase weighs in at only 49 grams, features the Razer Focus Pro 30K Optical Sensor under the hood, Razer Optical Mouse Switches Gen-3 for your click action, and HyperPolling Wireless with 4000 Hz wireless polling rates. With or without gold, it's a premium and impressive wireless mouse that can also fully charge in under 90 minutes with 60 hours of battery life.
As a one-of-a-kind mouse, we can only guess why it was produced. Was it a special order for Elon Musk, who recently shared some kind words about Diablo 4? Or will Razer auction or display it at an upcoming show? Either way, we just want to know what it's worth.