AMD officially unveiled the new Radeon RX 7900 GRE (Golden Rabbit Edition) last week, a brand new GPU in the Radeon RX 7900 line-up that is essentially a cutdown Radeon RX 7900 XT. With the announcement that custom models from AMD partners XFX, Power Color, and Sapphire are in production, it turns out that what was previously thought to be an exclusive release for the Chinese market is making its way globally.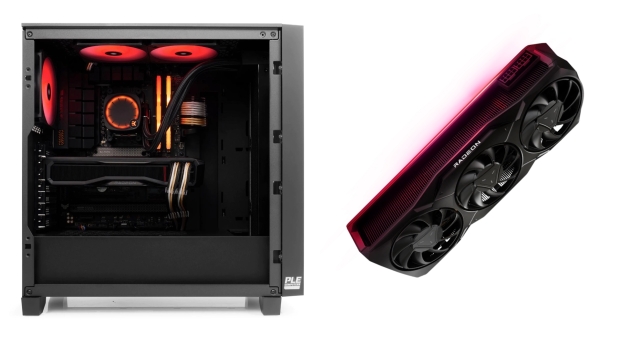 The XFX Radeon RX 7900 GRE 16GB GDDR6, which follows AMD's reference design for the new GPU, has been spotted at Australian retailer PLE Computers as part of a 'PLE Lunar Custom Built Gaming PC' - pointing to the GPU being provided to system integrators for all-in-one gaming PCs.
The full build, which also features an AMD Ryzen 7 7700 CPU, ASUS TUF Gaming B650 motherboard, 2TB of Crucial PCIe Gen4 storage, and 32GB of DDR5-5600 RAM, has a price of AUD 3,489.00 (around USD 2,300). Interestingly with different GPUs available, swapping out the XFX Radeon RX 7900 GRE 16GB for an ASUS GeForce RTX 4070 Dual OC 12GB drops the price of the full build by only USD 30.
AMD announced that the Radeon RX 7900 GRE's price point is USD 649, which is slightly higher than the GeForce RTX 4070's MSRP of USD 599. And this is reflected in the system offered by PLE Computers in Australia.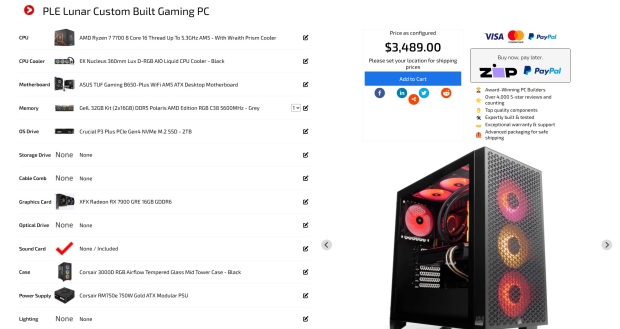 Specs-wise, the Radeon RX 7900 GRE features 80 Compute Units compared to the Radeon RX 7900 XT's 84 Compute Units, with 16GB of memory compared to 20GB. Clock speeds are also lower, with the overall power rating being a lower 260W than 315W. Benchmarks for the GPU have already started to appear online, with reports showing that its performance is on par with Radeon RX 6950 XT - so it should easily outperform the GeForce RTX 4070 in most 1440 and 4K gaming applications.
Though it seems that when it comes to 1080p, the GeForce RTX 4070 stays ahead of the new SKU, which is also the case for most games with ray-tracing enabled across the various resolutions, this also points to the Radeon RX 7800 being potentially underwhelming if it lags behind the GeForce RTX 4070.
What is a little confusing is that AMD is prepping to unveil the new Radeon RX 7700 and Radeon RX 7800 at Gamescom in August, so it's a little strange to see a third Radeon RX 7900 option arrive before then. Still, as of writing, the global availability of the new Radeon RX 7900 GRE looks limited to new system integrators, so we'll have to wait and see if custom models make their way to retail shelves for individual purchases.