MSI's Ventus range of graphics cards represents the company's entry-level or MSRP models and, over the years, have become some of the most popular GPUs in the world - especially in the mid-range market. With the arrival of the GeForce RTX 4060 and GeForce RTX 4070 in 2023, we've gone hands-on with the MSI GeForce RTX 4060 Ventus 2X and MSI GeForce RTX 4070 Ventus 3X and reviewed both.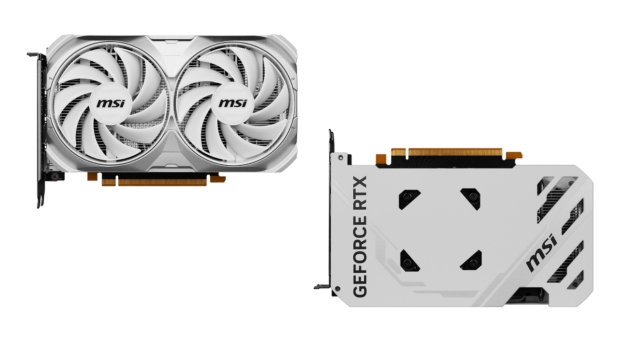 Featuring lightweight two-slot designs and excellent cooling for NVIDIA's power-efficient mid-range GeForce RTX 40 Series line-up, it now looks like MSI is prepping to launch brand-new MSI GeForce RTX 4060 Ventus 2X WHITE 8G OC and MSI GeForce RTX 4070 Ventus 2X WHITE 12G OC models.
White as a GPU color scheme has grown massively in popularity, to the point where it now seems like there are just as many White graphics card releases as those released in classic Black. Having MSI add new White revisions for its popular Ventus series is great news as these cards are super popular - and outside modifications to the underlying cooling and the addition of new generation architecture and hardware from NVIDIA, the Ventus line-up hasn't changed much over the years.
With a new white-colored shroud, fans, and backplate, these new Ventus models were discovered by @wxnod over on X/Twitter - where PDF datasheets for the new GPUs showcase the new look. The GeForce RTX 4070 datasheet is password protected, though the GeForce RTX 4060 datasheet outlines that the underlying specs and configuration remain identical between the White and Black versions.
The MSI GeForce RTX 4060 Ventus 2X WHITE 8G OC features an out-of-the-box OC clock speed boost to 2505 MHz, a slight increase over the reference design's 2490 MHz frequency. Like the Black model, you're also looking at a PCIe Gen4 interface over 8 lanes and the same 115 TDP.
There's no word on when MSI plans to launch these new GeForce RTX 40 Series Ventus models in white, though with datasheets online, it should be soon.