TEAMGROUP has a pair of new high-speed and high-end memory cards as part of its T-CREATE line-up with the new T-CREATE EXPERT CFexpress Plus Type-B and T-CREATE EXPERT CFexpress Type-B. Designed for creators that take high-speed shots and record raw 4K and 8K videos, both cards offer impressive write speeds of up to 1,700 MB/s and read speeds of up to 1,800 MB/s.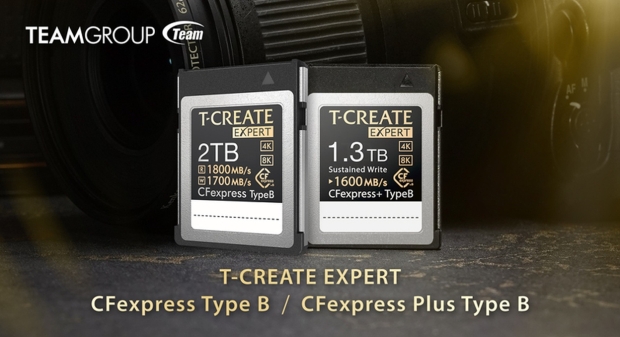 Adopting pSLC technology to deliver SLC-like read and write speeds that match their rugged durability, TEAMGROUP notes that write speed can be maintained at 1,600 MB/s over long periods for continuous recording or file transfers.
And they're available in high capacities using a PCIe 3.0x2 interface, with the T-CREATE EXPERT CFexpress Plus featuring a maximum capacity of 1.3TB and the CFexpress Type-B featuring up to a whopping 2TB of storage space - which works out to be close to six hours of 8K video recorded with a raw 800Mbps bitrate.
As high-end memory cards, TEAMGROUP offers a comprehensive 5-year warranty and data rescue service. Here's a look at both specifications, with links to their respective product pages.
T-CREATE EXPERT CFexpress Plus Type-B Memory Card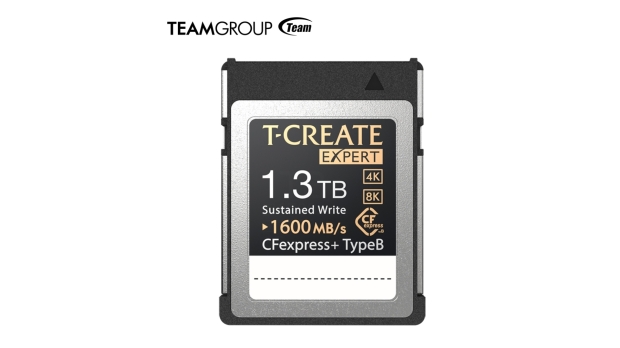 Interface: CFexpress 2.0 / PCIe 3.0x2

Form Factor: Type-B

Capacity: 325GB / 650GB / 1.3TB

Voltage: 3.3V

Operation Temperature: 0℃ ~ 70℃

Storage Temperature: -40℃ ~ 85℃

Performance: 325GB: Read up to 1,800 MB/s; Write up to 1,600 MB/s, 650GB: Read up to 1,800 MB/s; Write up to 1,700 MB/s, 1.3TB: Read up to 1,800 MB/s; Write up to 1,700 MB/s

TBW: 325GB: 7,000TBW, 650GB: 14,000TBW, 1.3TB: 28,000TBW

Weight: 10g

Dimensions: 38.5(L) x 29.8(W) x 3.8(H) mm

Operating System: exFAT file, Compatible with any devices supporting CFexpress 2.0 standards and CFexpress Type-B formats. Also backward compatible with any devices supporting XQD standards.

Warranty: 5-year limited warranty
T-CREATE EXPERT CFexpress Type-B Memory Card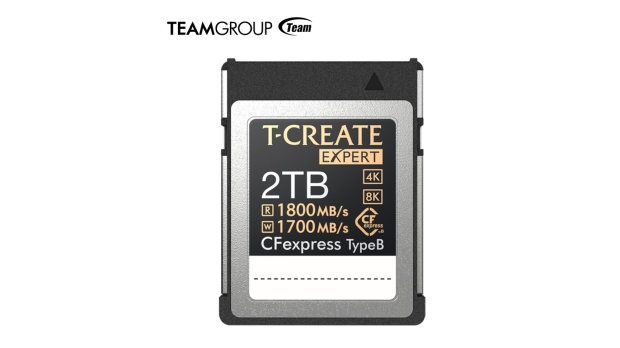 Interface: CFexpress 2.0 / PCIe 3.0x2

Form Factor: Type-B

Capacity: 512GB / 1TB / 2TB

Voltage: 3.3V

Operation Temperature: 0℃ ~ 70℃

Storage Temperature: -40℃ ~ 85℃

Performance: 512GB: Read up to 1,800 MB/s; Write up to 1,500 MB/s, 1TB: Read up to 1,800 MB/s; Write up to 1,700 MB/s, 2TB: Read up to 1,800 MB/s; Write up to 1,700 MB/s

Weight: 10g

Dimensions: 38.5(L) x 29.8(W) x 3.8(H) mm

Operating System: exFAT file, Compatible with any devices supporting CFexpress 2.0 standards and CFexpress Type-B formats. Also backward compatible with any devices supporting XQD standards.

Warranty: 5-year limited warranty