In what was only a fraction of a second, scientists observed an event that may very well change our understanding of how black holes operate.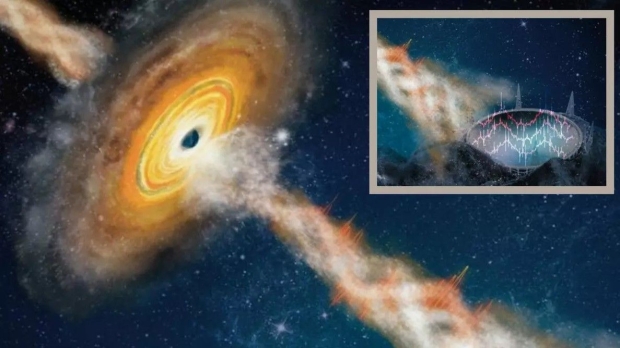 The event can be traced back to a star that's orbiting a stellar black hole, and the pair is called GRS 1915+105. So, what happened that's so special? According to reports, the star that is orbiting the black hole is slowly being eaten up by the extreme gravitational pull of the neighboring black hole. While this process is happening, some of its material fails to be consumed, causing an intense acceleration that results in a jet being shot out of the poles of the black hole.
While this event has been observed by scientists in the past, this particular instance was different. Typically, when a jet is shot out of the poles of a black hole, it's perfectly aligned with the rotation of the black hole. However, researchers observed a slight wobble in the jet's energy, similar to a spinning top, once it begins to slow down. This wobble lasted 0.2 seconds, and researchers suspect it was caused by the black hole's rotation not being aligned with its accretion disk, the disk of matter orbiting the black hole.
"The peculiar signal has a rough period of 0.2 seconds, or a frequency of about 5 Hertz," Wei Wang, a professor of astrophysics at Wuhan University in China and the lead author of the research, said in a statement. "Such a signal does not always exist and only shows up under special physical conditions. Our team was lucky enough to catch the signal twice - in January 2021 and June 2022, respectively."
"In accreting black hole systems, X-rays usually probe the accretion disk around the black hole while radio emission usually probes the jet launched from the disk and the black hole," said Bing Zhang, an astronomer at the University of Nevada and co-author of the researcher, in the statement.
"The detailed mechanism to induce temporal modulation in a relativistic jet is not identified, but one plausible mechanism would be that the jet is underlying precession, which means the jet direction is regularly pointing towards different directions and returns to the original direction once every about 0.2 seconds," added Zhang