The Nintendo Switch handheld-console hybrid has now surpassed 129 million shipments worldwide as it enters its 7th year on the market.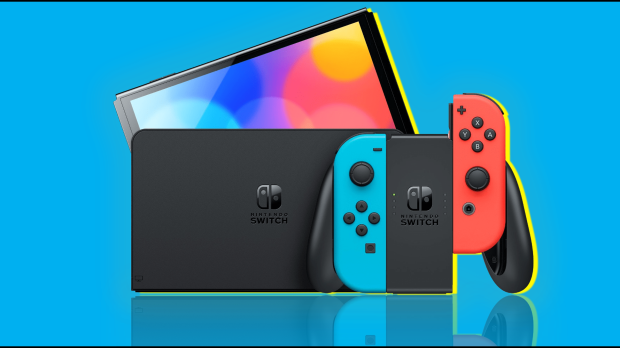 Nintendo just reported strong Q1 results driven by a significant uptick in licensing revenue from the Super Mario Bros. movie, a record-breaking $1.75 billion from software, and consistent hardware shipments throughout the period.
In Q1 FY24, which ran from April - June 2023, Nintendo shipped 3.91 million Switch consoles and pushed the system's total worldwide cumulative sell-in to 129.53 million. This period starts the Switch's 8th year on the market, and despite its prolonged lifespan, Nintendo is still meeting apparently strong demand by sending out the Switch's third-largest Q1 shipment since the console launched in March 2017.
Nintendo shipped more Switch OLED consoles in Q1 than it did the other variants, with the OLED model achieving 2.83 million shipments and comprising 73% of the quarterly hardware cache. The OLED's higher price tag also helped increase Nintendo's quarterly net sales to $3.191 billion.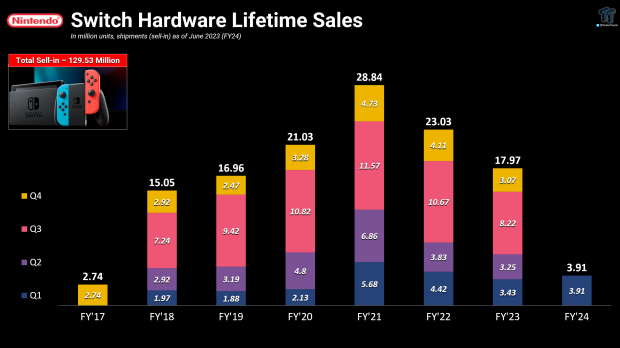 Total numbers for the Switch family's shipments is now:
Base Switch model - 90.23 million
Switch Lite - 21.45 million
OLED - 17.85 million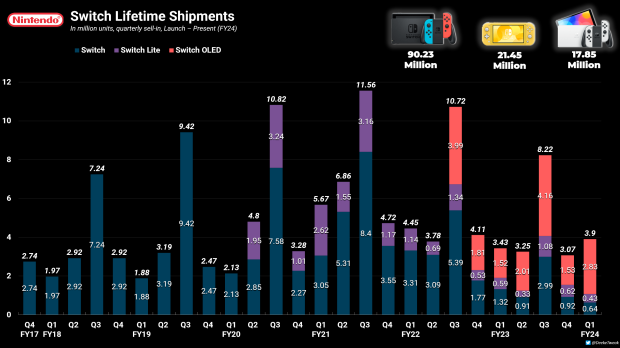 Nintendo is reiterating its Switch console sales forecast of 15 million units for FY24, down nearly 3 million shipments from last year.
This forecast is expected to reflect Nintendo's rumored next-gen Switch model which is reportedly due out in 2024, and may feature full software backwards compatibility with the existing three-console family as well as other upgrades like 4K resolution upscaling and a higher-end chip to enable more flexibility and options for game developers.