Baldur's Gate 3 launches on August 3, in a couple of days, and it's one of the biggest RPG releases of the year on PC outside of Bethesda's Starfield. The return of the iconic role-playing franchise arrives courtesy of Larian Studios, who has been working on the game for quite some time - where it has been available to play in Early Access form for a while.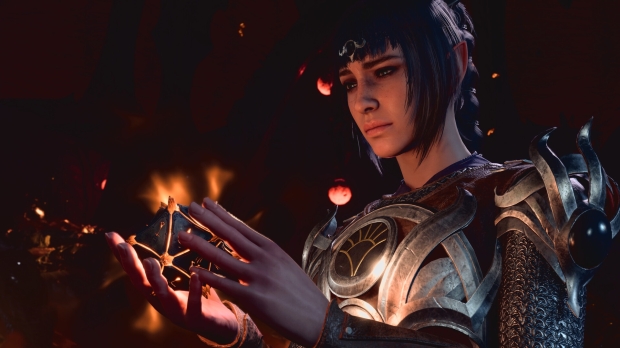 The full release, of course, is another level entirely, and today, we've got word that on day one, the game will feature support for NVIDIA DLSS 2 and DLAA - the AI version of anti-aliasing called Deep Learning Anti-Aliasing.
Regarding large-scale RPGs, Baldur's Gate 3 is pretty epic - with NVIDIA rattling off some numbers that are part of the DLSS and DLAA announcement. Twelve playable classes, 174 hours of cinematics, and around 2000 interactive characters to interact with. NVIDIA also provided some other numbers, performance covering what to expect when playing the game in 4K with DLSS on a GeForce RTX 40 Series graphics card.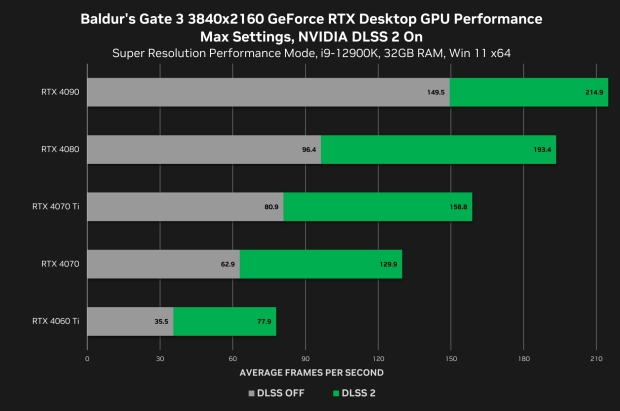 At max settings in 4K using the DLSS Performance mode, you're looking at 214.9 frames-per-second on the GeForce RTX 4090, while on the opposite side of the spectrum, the GeForce RTX 4060 Ti can deliver a frame rate of 77.9 fps, which is pretty impressive for a GPU that has been marketed as a 1080p card due to the 8GB VRAM limitation. And with that in mind, jumping up to 12GB GeForce RTX 4070, the frame-rate hits 129.9 fps on average.
In addition to Baldur's Gate 3 getting DLSS 2, NVIDIA announced that DESORDRE: A Puzzle Game Adventure from SHK Interactive is getting DLSS 3 Frame Generation support for the game's Unreal Engine 5.2 update. With NVIDIA RTX Direct Illumination (RTXDI) ray-traced light, shadows, and reflections, the game uses Ada Lovelace's Shader Execution Reordering (SER) technology to improve ray-tracing performance.
Per the trailer, it's a visually stunning and stylish-looking puzzle game where just like we saw with Portal with RTX absolutely needs DLSS 3 and Frame Generation in 4K. On the GeForce RTX 4080, performance increases from 25.3 fps up to 91.6 fps, while on the GeForce RTX 4090, that increases to an impressive 123.2 fps.
The latest GeForce DLSS update also confirms that DLSS 3 has been added to Remnant II, a title that is making headlines thanks to it being a great game alongside an Unreal Engine 5 title that is suffering from performance issues. The idea here is that on GeForce RTX 40 Series cards, DLSS 3 should be an improvement - though it's the sort of tech that requires a stable base to work from.