Solidigm is one of the storage leaders in the NAND flash memory space, and its latest announcement is impressive for quad-level cell (QLC) SSDs for data centers. The new Solidigm D5-P5336 SSD starts at a capacity of 7.68TB, going up to a massive 61.44TB - an industry first and the world's highest capacity PCIe SSD.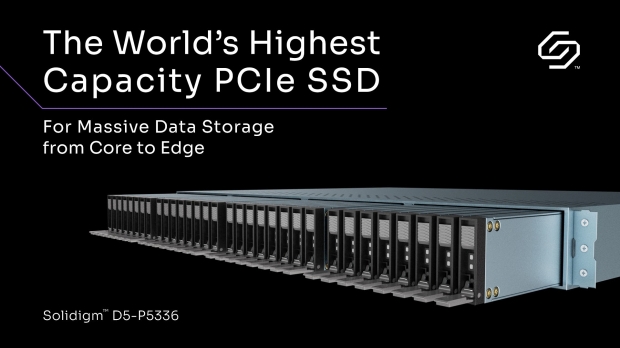 For high-performance computing and data centers, it's an exciting proposition, up to 6X the storage capacity and significant reductions to Total Cost of Ownership (TCO). And you're looking at impressive speed, too, with the new Solidigm D5-P5336 capable of delivering read speeds of up to 7,000 MB/s.
"Modern workloads like AI and capabilities like 5G are rapidly reshaping the storage landscape," said Greg Matson, VP of Strategic Planning and Marketing at Solidigm. "Businesses need storage in more places that is inexpensive, able to store massive data sets efficiently and access the data at speed. The D5-P5336 delivers on all three -- value, density, and performance. With QLC, the economics are compelling -- imagine storing 6X more data than HDDs and 2X more data than TLC SSDs, all in the same space at TLC speed."
My imagination immediately goes to putting one of these in my main PC gaming rig and installing the entirety of my Steam collection, which has been growing for decades with enough room to install the PC Game Pass library. Of course, that's not the intended use case for the Solidigm D5-P5336 SSD - which sits firmly in the AI and content delivery realm for businesses.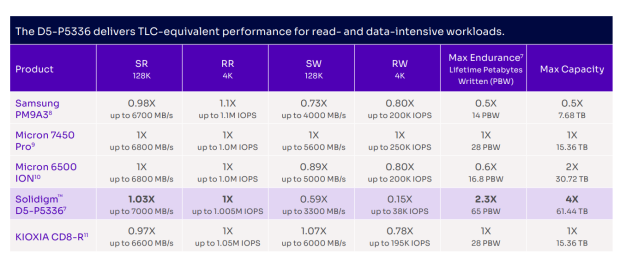 Spec-wise, you're getting impressive tech with incredible capacity, 3D QLC NAND memory designed for performance and endurance (that is comparable to 3D TLC NAND) with 7,000 MB/s read speeds and a sequential write speed of 3,300 MB/s. Random read/write speed is rated up to 1.005 million/38K 4K IOPS, which is impressive for a 61.44TB SSD.
"For years, there has been debate about endurance and reliability of SSDs, QLC in particular, but Solidigm might have ended that debate with the D5-P5336," noted Avery Pham, VP of Operations, VAST Data. "Any number of applications will see notable benefits from these drives from AI and machine learning to object storage."
The Solidigm D5-P5336 is available now in the E1.L form factor with up to 30.72TB capacity, with 61.44TB models in U.2 and E1.L form factors on track to launch later this year.