To give a better idea of how gaming's three platform holders compare with one another, we've compiled a quick head-to-head showdown between PlayStation, Nintendo, and Xbox.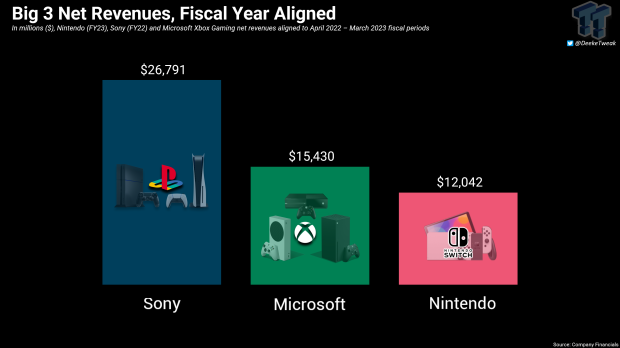 Over the last few months, gamers have been treated to a much more transparent look at the video games industry. From the $200 million budgets of top-performing PlayStation games to actual concrete info on Xbox console shipments, we're able to use valuable info gleaned from recent events in conjunction with official company earnings to give a better idea of how effectively gaming's Big 3 competes.
Using Nintendo's recent annual report, I put together a quick comparison of the video games industry's Big 3 triumvirate hierarchy to clearly illustrate the revenue position of PlayStation, Xbox, and Nintendo. Since Microsoft operates on a non-traditional fiscal year, which begins in July and ends in June, I've aligned Xbox revenues to match the April 2022 - March 2023 fiscal timelines of both Sony and Nintendo.
Read Also: Nintendo ends fiscal year with $8.98 billion in cash, $17 billion net assets
The results look like this:
Big 3 net revenues, Fiscal Year 2023 aligned
Sony PlayStation - $26.791 billion
Microsoft Xbox - $15.43 billion
Nintendo - $12.042 billion
Based on these revenues, we can see that:
PlayStation made $11.3 billion more than Xbox, and $14.7 billion more than Nintendo

Xbox made $3.4 billion more than Nintendo
Revenues aren't everything, though. Nintendo managed to deliver $3.792 billion in operating profit versus PlayStation's $1.846 billion operating profit (PlayStation's profits were down significantly due to factors like the $3.6 billion acquisition of Bungie). We don't know Xbox's profit margins.
We've also compiled shipments/console sales on a Big 3 basis to help illustrate each company's competitive edge. What is most noteworthy about Xbox's performance is that its revenues are still high enough to beat Nintendo on both a fiscal and calendar year basis (Xbox beat Nintendo revenues for 2021 and 2022 calendar years) despite Xbox A) selling all console hardware at a loss and B) being drastically beaten in the hardware sales front.
This underlines Microsoft's emphasis on software, content, and services for its Xbox games division and also highlights the importance of disruptive subscription services like Xbox Game Pass.
Below we have a breakdown of Big 3 console shipments on a Gen 9 basis including the Switch: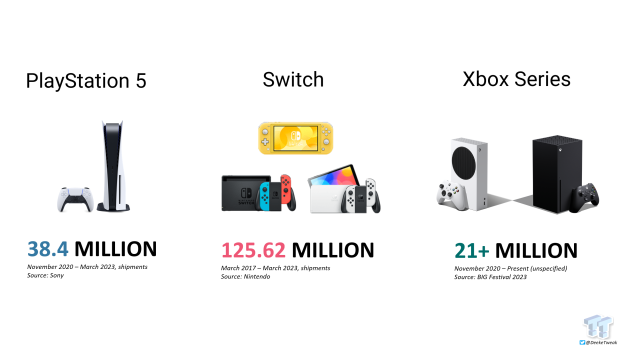 And here's a look at Gen8 + Gen9 with the Switch and Wii U included as well: