Nintendo's latest annual report sheds light on its performance metrics for the Fiscal Year 2023 period.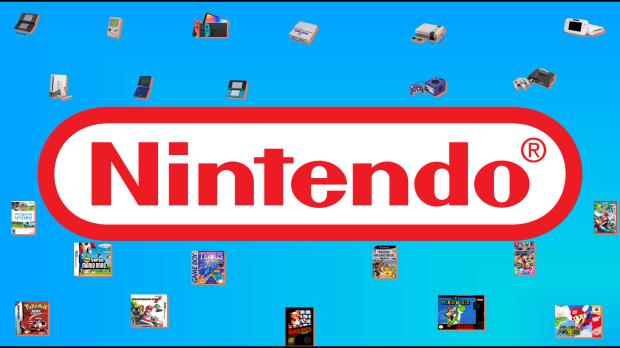 While Nintendo's FY23 period delivered lower results than a year prior, the company is still far from being in the red. The Japanese video game giant's operational performance for FY23 was still quite noteworthy and demonstrates its consistently strong presence in the Big 3 hierarchy (PlayStation, Xbox, and Nintendo).
During the fiscal year, Nintendo managed to generate $12.042 billion in net sales revenues, most of which was from the Nintendo Switch platform. On a breakout basis, Nintendo made $11.347 billion from the Switch, which includes hardware, content, and services, $268 million from the others category, which includes sales of amiibo and "platforms other than Nintendo Switch", $383 million from mobile gaming and IP-related income which includes smartphone games and royalties, and $42 million from playing cards.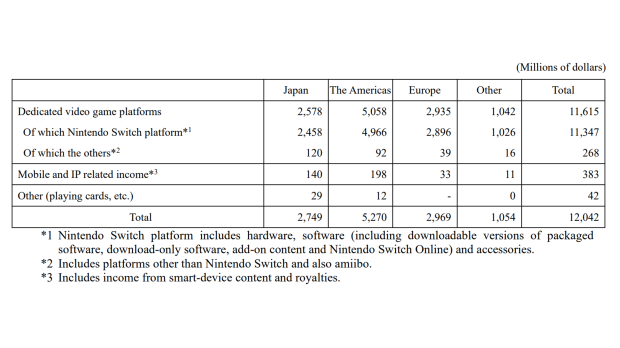 FY23 delivered $2.427 billion cash flows from operating activities, and Nintendo had $8.981 billion cash and cash equivalents at the end of the year, which is the amount of cash that Nintendo currently has available--the cash equivalents can be quickly converted into cash should the company need liquidating.
Nintendo also finished the year with $17.041 billion in net assets, with shareholder equity at $16.141 billion, most of which is made up of $17.990 billion in retained earnings minus a $2.037 billion loss in treasury shares. The company has $4.419 billion in liabilities, or debts that are owed.
Looking closer at the report, we can also see how much games and content that Nintendo produced in the year versus the sales that it made.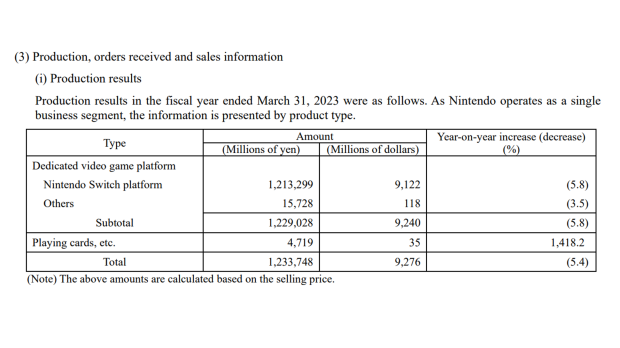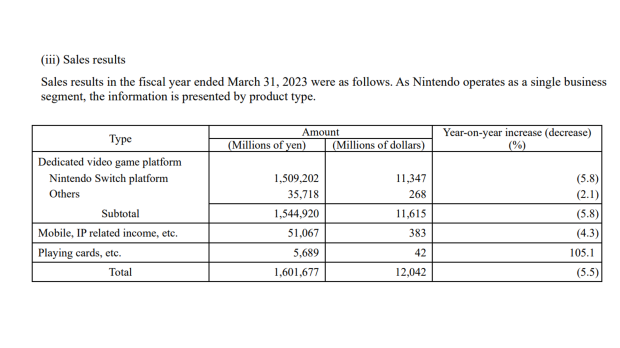 In FY23, Nintendo produced $9.122 billion worth of Switch platform hardware, games, and services, and it sold $11.347 billion worth of games, content, and hardware throughout the year.
Check below for a list of Nintendo FY23 operational performance metrics in USD: