Construction for the world's largest LED screen began in 2018, and after many years of development and budget increases, its creators have turned it on and welcomed it to the world.
Sphere Entertainment put together the $2.6 billion multi-year project in partnership with Madison Square Garden. The massive circular building was unveiled on July 4 with an eye-catching animation. The venue will be able to seat 17,600 people, has a standing capacity of 20,000, and is located in Las Vegas near The Venetian Resort.
Reports indicate that the screen located on the outside of the dome is the largest LED screen on Earth at about 580,000 square feet, with 1.2 million puck lights that each have 48 diodes capable of producing up to 256 million colors, according to Sphere Entertainment.
Additionally, Sphere Entertainment said the Sphere is the world's largest spherical structure at 516 feet wide and 366 feet tall. MSG Ventures CEO David Dibble revealed in a Rolling Stone article that there is an internal ceiling-to-floor screen has a resolution of 16K-by-16K, and that a new kind of camera needed to be created to capture images/video. Furthermore, reports indicate that Darren Aronofsky is currently working on the first Sphere-only film.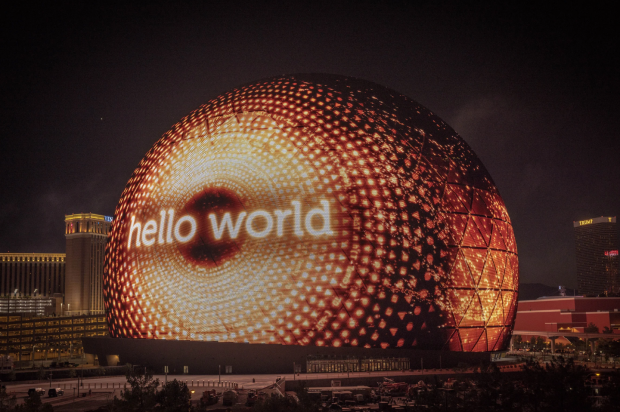 As for audio, the Sphere's created outfitted the venue with a 164,000-speaker audio system that's been specifically tuned for the Sphere's circular construction.
"There's a noise-dampening system that we used in the nozzles of our air-delivery system that NASA found really interesting," Dibble claims. "They were like, 'Do you mind if we adapted that for the space program?' We went, 'No, knock yourself out.'"
The first concert at the Sphere will be U2 on September 29.