AMD is preparing to launch a new mainstream CPU for its Ryzen 7000 line-up and new AM5 platform - the Ryzen 5 7500F. Although not officially announced, the new CPU from AMD could arrive this week after all the fireworks and barbeques are packed away on July 7.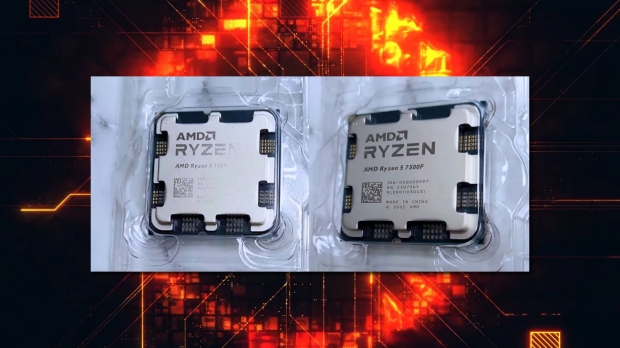 The news broke when known insider @harukaze5719 posted the existence of the CPU in a build on Twitter, with further confirmation coming from PugetBench results and a Korean retail listing spotted by VideoCardz that has since been deleted. As far as specs go, the new Ryzen 5 7500F is said to feature 6 Zen 4 cores clocked slightly lower than the Ryzen 5 7600.
Another interesting feature of this new mysterious Ryzen CPU is that the 'F' in the naming indicates that it won't feature any integrated graphics - which should lead to a lower retail cost. This comes from how Zen 4's designed architecture separates the GPU component from the CPU.
Although full specs will confirm exactly what this CPU is in terms of its make-up, the odds are that it's a 100 MHz or so downclocked Ryzen 5 7600 with the iGPU stuff taken out. This info comes from the retail listing that has since been removed (probably at the behest of AMD) that noted a 5.0 GHz speed and the same amount of L2 and L3 cache (38MB).
And with that, it should launch at a similar price, though most likely with USD 10-20 discount to hit that USD 199 sweet spot. The Ryzen 5 7500F could represent a great entry-level option for new AM5 builds while offering an upgrade path for future Ryzen Zen 5 or Zen 6 CPU releases. Per our review of the Ryzen 5 7600, it's the sort of CPU that delivers game performance.