YouTube's parent company Google is testing out a new method of stopping ad blocker users from browsing countless YouTube's videos without being exposed to a single advertisement.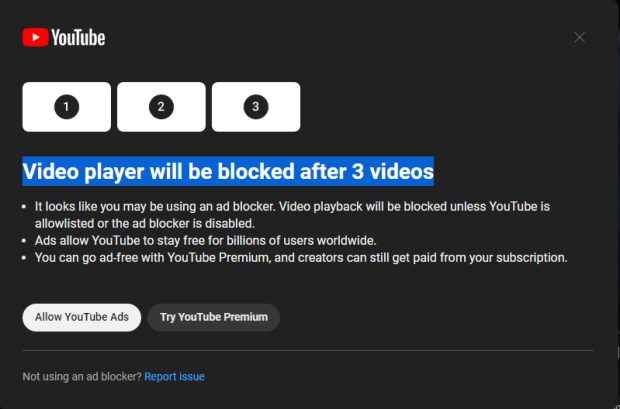 Google has been rolling out updates to YouTube to stop ad blockers from working, but it seems that just after a few days, the developers of these ad blockers just update the extensions, and the users are back to an advertisement-free experience on YouTube. Google obviously wants to stop this as it's costing the company potentially millions in advertising.
Now we are hearing about a new tactic from Google that was first spotted by BleepingComputer, which cited a Reddit user sharing a screenshot to the r/YouTube subreddit. The screenshot can be seen above and indicates that YouTube's video player will be "blocked after 3 videos".
Additionally, it seems that YouTube has detected the user was using an ad blocker and proposed an ultimatum - either put YouTube.com on the allow list for the ad blocker or pay for YouTube Premium, an $11.99 monthly subscription that enables an ad-free viewing experience.
"Ads allow YouTube to stay free for billions of users worldwide," the message reads.
So, is this going to be rolled out globally? According to a report from Gizmodo, which spoke to a YouTube spokesperson, the company is currently testing this new feature on a small group of people globally.
Furthermore, the spokesperson said that if YouTube detects an account with too many offenses it will disable video playback on that account. However, these offenses would be considered "extreme cases".
"Small experiment globally that urges viewers with ad blockers enabled to allow ads on YouTube or try YouTube Premium." The spokesperson added, "Ad blocker detection is not new, and other publishers regularly ask viewers to disable ad blockers."