New infographs from an Xbox presentation at Brazil's BIG Festival reveal Xbox console sales figures for both Gen 8 and Gen 9 cycles.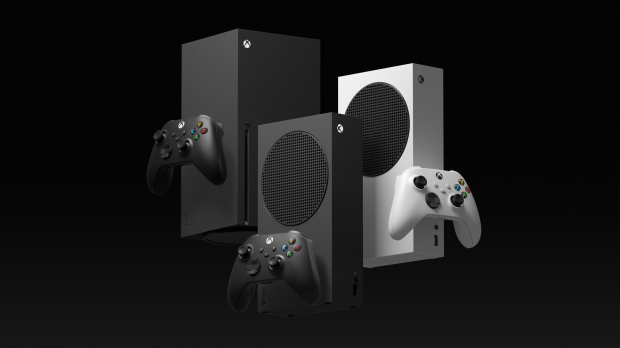 At the Big Festival 2023 event, Leonardo Barros Barreto. Director of Partner Production Management at Xbox delivered a presentation entitled Xbox - Opportunities for Developers ranging from ID@Xbox to Game Pass. In this presentation, Barreto showed a slide deck with interesting figures on Xbox hardware sales across last-gen and the current Xbox Series generation. This presentation was not livestreamed as part of the BIG Festival videos.
According to the figures, the Xbox Series X/S have sold a combined 21 million units. No specificity regarding timing was given--we don't know if that's current numbers, or if it's as of a certain date, and we don't know whether or not this is shipments, installed base, or sell-through figures. Despite the ambiguity around the number, it does still give us an idea of how well the new-gen Xbox duo are performing.
Below I've put together a quick chart of the Big 3's current-gen consoles. The Switch may not technically be Gen 9, but it's an important mid-generation anchor point that shows the competitiveness of the Nintendo Switch platform.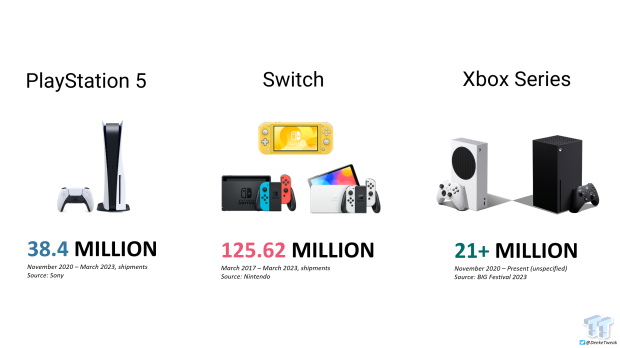 The slide deck also showed how many combined Xbox One and Xbox Series units that Microsoft has delivered. Again, we don't know exact specificity of this data, but we can align that up against with Nintendo Switch shipments and PlayStation 4 & PlayStation 5 shipment data provided by Sony to get an idea of how the Big 3 are performing and competing with one another.
One key thing to remember is that Microsoft does not make a profit on Xbox consoles, whereas both Sony and Nintendo do make a profit on their respective hardware.