Rockstar's original Red Dead Redemption has suspiciously been re-rated by Korea's Game Rating and Administrative Committee, hinting at a possible remaster.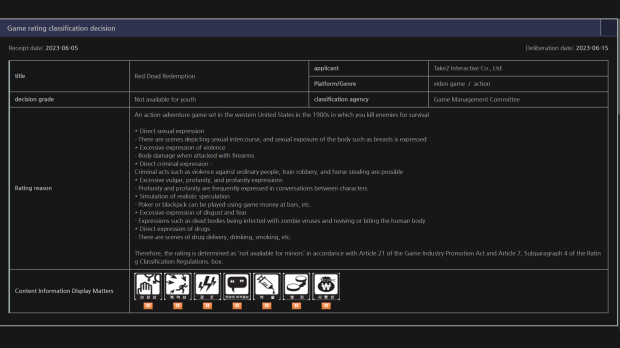 It looks like Red Dead Redemption could be getting a remaster. Korea's GRAC ratings board has just published a final decision for Red Dead Redemption, giving it a mature rating. GRAC received the application earlier this month on June 5, 2023, and made a decision on June 16, 2023.
This new rating is separate from the Xbox 360 and PlayStation 3 versions of the game. The new rating does not list a platform so it's hard to be sure.
It's possible that a Red Dead Redemption remaster could be part of Take-Two Interactive's massive slate of games. The publisher plans to release 52 projects from Fiscal Year 2024 to Fiscal Year 2026, including 6 "new iterations of previously-released titles." A RDR remaster would be part of this category.
It's been many years since Rockstar released its last AAA hit, Red Dead Redemption 2, in 2018. Since then, Rockstar Games has released multiple content updates for Grand Theft Auto Online and some middling updates for Red Dead Online, as well as the hotly-controversial Grand Theft Auto definitive edition remaster collection which has managed to sell many millions of copies despite its launch state.
A new Red Dead Redemption remaster could help revitalize Rockstar Games' full game sales while it doubles-down on GTA 6's development. It's believed that GTA 6 could come out in 2025 or thereabouts given information telegraphed by Take-Two Interactive's expected forecasted revenues.