The ongoing battle between Microsoft and the FTC over the company's planned $68.7 billion acquisition of Activision-Blizzard has been making headlines for a while now, with several Xbox, gaming, and even PlayStation revelations as the case is being heard before a judge. Company emails, testimonies, and even internal-only plans are surfacing - one being Windows related.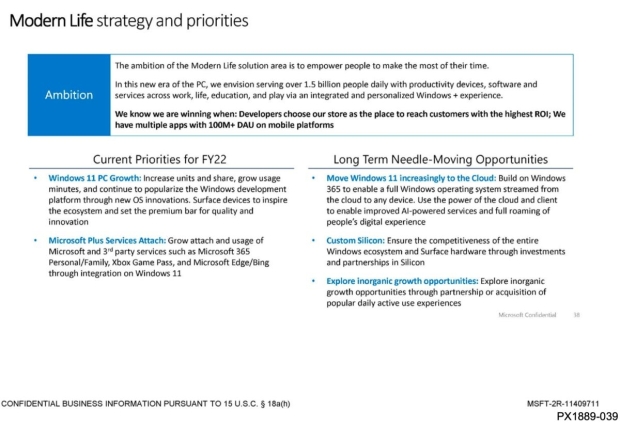 According to an internal Microsoft document outlining the company's immediate and long-term plans, it's planning to shift Windows to become a cloud-based operating system that can stream to any device. Similar to the current Windows 365 service exclusive to Microsoft's commercial customers, except for all Windows users with an eye towards Chromebook-like devices.
The information comes from a June 2022 presentation slide about the state of the company's business under the heading "Move Windows 11 increasingly to the Cloud" as a long-term opportunity. It states that the cloud and client will "enable improved AI services and full roaming of people's digital experience."
Underneath this, the slide mentions "Custom Silicon" as something Microsoft will need to remain competitive, and we already see the company move more and more into hardware with the creation of the "Microsoft Silicon Team." The move into a cloud-based Windows will ensure more attractive monthly billing for customers (for Microsoft), as seen with Windows 365 and Office 365.
The move to a cloud-based Windows sounds like Microsoft's plan going forward, as the slide also notes that services like Microsoft 365 and Xbox Game Pass are a big part of the company's current growth strategy. "We envision serving over 1.5 billion people daily with productivity devices, software, and services across work, life, education, and play via an integrated and personalized Windows experience," the slide states.
The fact that Microsoft has successfully moved Office from being an application to something that exists on the cloud makes the idea of a cloud-based Windows not seem as far-fetched as it might seem. Throw in the company's investment in AI and the existence of Windows 365; we could be looking at this becoming a thing sooner rather than later. The recent Windows 365 Boot announcement, which lets users boot directly into an Azure-based instance of Windows, could be seen as one of the first major steps to moving Windows to the cloud for all users.