In the desktop PC space, rocking an ultrawide display or two displays side-by-side is a surefire speed boost for productivity. More screen real estate equals free real estate. When it comes to laptops though, being on the go means you can pick up and work or create no matter where you are. And for many, the idea of a portable dual-screen setup doesn't get a tiny blip on their radar.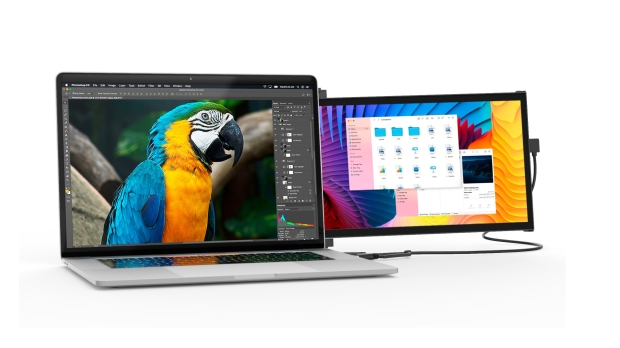 This is where Mobile Pixels comes in, and its range of DUEX portable laptop monitors is designed to add a second screen to help bridge the gap between the desktop and portable space. And with the shift to working from home and a hybrid setup that means many aren't simply working out of a single office, this solution is worth celebrating.
These lightweight DUEX screens, attached to an existing laptop via magnets, feature their own support and stand for durability. They can also be oriented on the left or right side of a laptop too, and best of all, Mobile Pixels notes that they are compatible with any laptop (via USB-C or USB-A), so you can get that dual-screen experience anywhere.
Even if all you're doing is keeping your inbox or something like Discord open on the second screen, that's still a big productivity win.
The DUEX range covers three models, the DUEX Lite, Plus, and Max. The DUEX Lite is an affordable option, with a 12.5-inch screen and a weight of under 600 grams (USD 299 or AUD 499). The DUEX Plus bumps the size to 13.3 inches (USD 329 or AUD 549), with the new DUEX Max being the premium option with a 14-inch screen (USD 369 or AUD 599).
Good news for those in Australia as the DUEX range is available now via Amazon and in-store at retailers like JB Hi-Fi and Officeworks.