Intel Larrabee based on X86 technology
GFX industry has new contender.
Published Mar 23, 2008 6:30 AM CDT
|
Updated Tue, Nov 3 2020 12:38 PM CST
1 minute & 1 second read time
There are some slides going around the net from a presentation Intel made about the upcoming Larrabee Core architecture. The schematic indicates that a key feature of this future product will be multiple x86 cores scalable to TeraFlops of processing power without a simple scalar stream processes, but rather the cores will work in an integrated way, offering "Global Illumination" and "life-like rendering".
Both features are part of the DX 10.1 capabilities, and are at the forefront of the graphics technology arena. Intel also claims that Larrabee will function with both DirectX and OpenGL.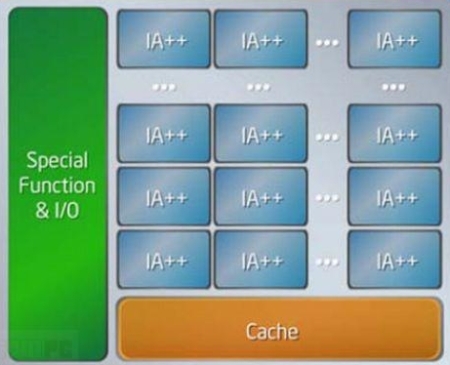 If Intel gets this right (on paper at least it seems good), then the entire graphics industry will get a shake up. Nvidia and AMD have scoffed at Intel's revelations, saying that nothing is new, and they have those capabilities already in their products. Intel on the other hand feels they have the correct formula to make some serious inroads to the GPU market with this new offering.
Some of the key differences are as Intel says the "triangle/rasterisation" and "rigid pipeline architecture". These characteristics of ATI/AMD and Nvidia GPU's are holding back the capability of those GPU's to perform as both CPU and GPU together, and also further complicate the physics processing options.
Intel claims their product would most likely be the best choice for the dual capabilities as well as for possible physics and other computational co-processing options, more so than the current solutions provided by ATI and Nvidia.
You can read all about it at the
Custom PC website
.