The NVIDIA H100 Tensor Core GPU is built for AI workloads, designed to work alongside a string of other H100 GPUs, and costs around USD 40,000 a pop. It's a general-purpose GPU and AI accelerator, so it is not designed for graphics or gaming - it lacks any display output.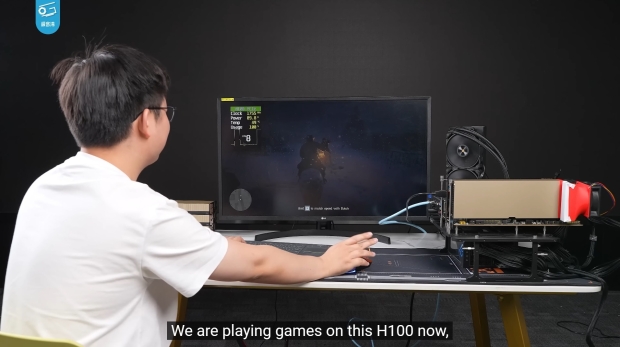 Still, you might be wondering how it handles gaming workloads because, after all, if you had access to an NVIDIA supercomputer or high-end AI GPU, you'd probably be wondering how it handles something like Cyberpunk 2077 and its cutting-edge Ray Tracing Overdrive Mode.
Hardware-wise, it's a beast, with 14592 CUDA cores and 80GB of HBM3 memory with an effective bandwidth of 2TB/s. It also uses the PCI Express 5.0 interface, something that's still not available on the GeForce RTX 40 Series. But there's no cooling because it is data center rack-based and has no display, so getting it to run games requires some work.
This is precisely what the Chinese YouTube channel Geekerwan has done, using a secondary graphics card to trick the system into recognizing the setup and unlocking features like real-time ray-tracing for the H100.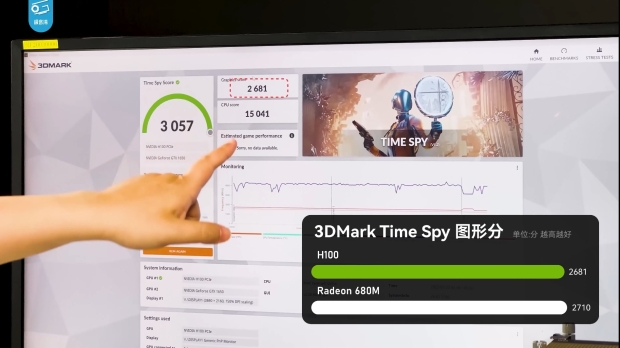 However, the end results are underwhelming, with sub-100W power consumption and synthetic 3D Mark benchmark performance in the integrated Radeon mobile graphics range. This is due to the H100 having fewer raster operating units (ROP) than something like the GeForce RTX 4090 - 24 versus 160 on the flagship GeForce graphics card.
Other bottlenecks indicate that the NVIDIA H100 Tensor Core GPU is not built for gaming, which is highlighted in the video, with non-gaming benchmarks like FluidX3D destroying the GeForce RTX 4090.
You can watch the full presentation below (with auto-translated Chinese to English subtitles)