Plenty of new products are emerging out of Computex 2023, and one to highlight is from ASRock. Introducing the PG558KF, an 8K IPS display slated for high-end gamers.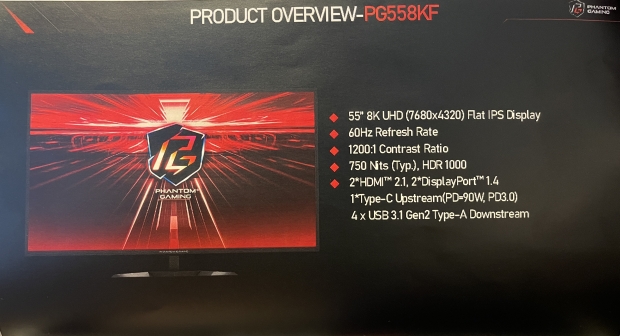 ASRock announced a new line-up of gaming monitors under its Phantom Gaming brand at Computex 2023, and the company was kind enough to give me an introduction to each of its new variants at its booth. More specifically, ASRock unveiled its PG558KF, an 8K UHD flat IPS display at 60Hz refresh rate, a 1200:1 contrast ratio, 750 Nits, and HDR 1000. Additionally, the PG558KF comes with two HDMI 2.1 ports, two DisplayPort 1.4 ports, one 90-watt USB-C Type-C port, and four USB 3.1 Gen 2 ports.
For those that don't know, there currently isn't any hardware that can efficiently run games at 7840 x 4320 (8K), and gamers that decide to pick up the PG558KF when it's available will likely be waiting a long time for hardware to release that can fully utilize its capabilities. While gaming on newly released maxed-out games may currently be a pipe dream, the PG558KF would still look incredible on a desk and be an awesome multi-purpose display for users looking to do any work or watch movies, TV shows, or high resolution YouTube videos.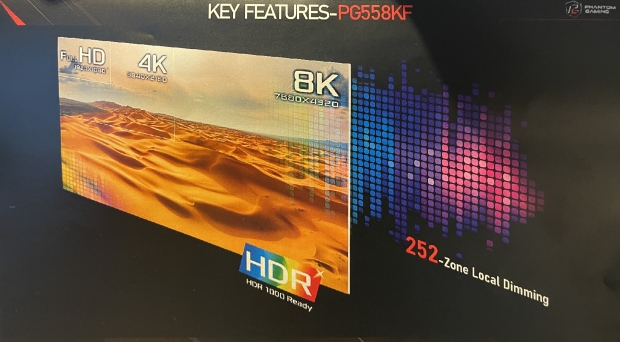 "The PG558KF is a remarkable 55-inch display that boasts 8K UHD resolution and HDR1000 support. This cutting-edge monitor equips with upgraded gear and ready for the next generation of high-definition console and PC gaming," writes ASRock
Unfortunately, ASRock didn't reveal any information on pricing or a release date.