Announced not that long ago, MSI's new SPATIUM M570 Pro series of Gen5 SSDs featuring the cutting-edge PHISON E26 PCIe Gen 5 SSD controller, 3D NAND flash, and custom-tuned active cooling system promised to deliver record-breaking 14 GB/s read speeds.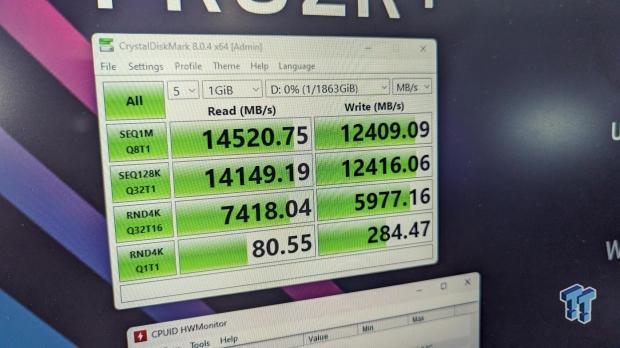 At Computex 2023, we saw it in action, where the promise of up to 14 GB/s read speeds was not only true - but sitting at exactly 14,520.75 MB/s read (14.5 GB/s) and 12,409.09 MB/s write. That alone is incredible when you factor in that most PCIe Gen5 offerings currently top out at just over 10 GB/s. However, what really grabbed our attention was that the SSD temperature was only 44 degrees Celsius during the benchmark.
How MSI has managed to keep the new SPATIUM M570 Pro cool won't be a mystery once you take a look at its size, as this is a PCIe Gen5 SSD with a custom cooler that is quite large for an SSD - and it even includes a sizable fan.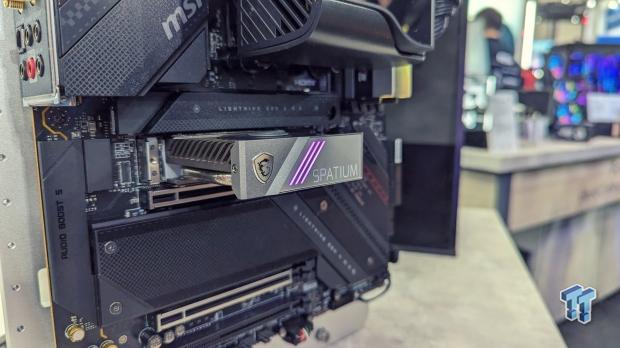 It seems that once you get over a certain speed threshold for Gen5 SSDs, the most effective cooling becomes what we see elsewhere in the PC hardware space, heatsinks stacked up high with fans and pipes and all of that.
As a bonus, MSI also showcased two SPATIUM M570 Pro SSDs running together, able to hit a speed of 22 GB/s read and 23 GB/s write. Though notably here, the random numbers weren't that impressive, with MSI noting that further tweaking needed to be done there.