It's no surprise that NVIDIA CEO Jensen Huang's opening keynote at Computex 2023 dived head-first into the company's impressive advances in AI hardware. And with news that its new GH200 Grace Hopper Superchip has entered full production, it points to some incredible performance gains on the horizon. It manages to build on the already impressive H100.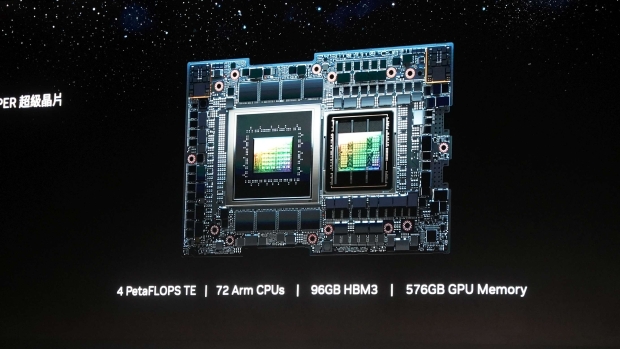 The GH200 Grace Hopper Superchip sees NVIDIA combine an Arm-based NVIDIA Grace CPU and Hopper GPU architectures using NVIDIA NVLink-C2C interconnect technology - which is capable of an impressive 900GB/s (up to) of total bandwidth. It's something of an AI beast, designed specifically for the most demanding generative AI and HPC applications.
With availability expected later this year, it doesn't stop there, with NVIDIA also prepping a new AI supercomputer called the NVIDIA DGX GH200. It includes 256 Grace Hopper Superchips, a whopping 144 TB of shared (i.e., unified) GPU memory, and 1 EFLOPS of processing power. On the memory front alone, that's 500x more memory than the previous generation NVIDIA DGX A100 introduced in 2020.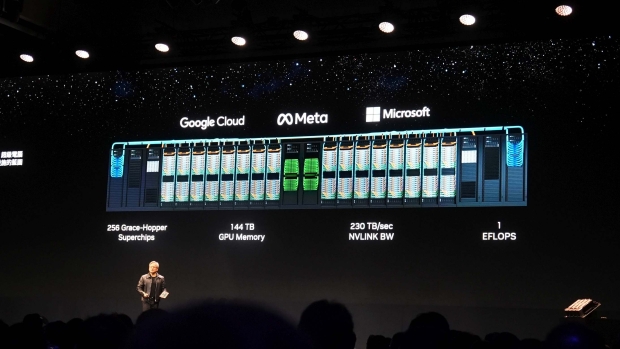 "Generative AI, large language models, and recommender systems are the digital engines of the modern economy," said Jensen Huang, founder, and CEO of NVIDIA. "DGX GH200 AI supercomputers integrate NVIDIA's most advanced accelerated computing and networking technologies to expand the frontier of AI."
During his keynote, Jensen Huang noted that Google, Meta, and Microsoft are confirmed as partners that will be making full use of the NVIDIA DGX GH200 and its insane AI computing power.
Of course, the combination of Arm-based CPU and Hopper GPU architectures will make the new Grace Hopper Superchip a major release as AI research, modeling, startups, and companies worldwide look to integrate AI into all facets of science, research, and business. Plus, image generators that let you turn any idea into a potential frame from a Chris Nolan or Wes Anderson movie.
"Generative AI is rapidly transforming businesses, unlocking new opportunities, and accelerating discovery in healthcare, finance, business services, and many more industries," said Ian Buck, vice president of accelerated computing at NVIDIA. "With Grace Hopper Superchips in full production, manufacturers worldwide will soon provide the accelerated infrastructure enterprises need to build and deploy generative AI applications that leverage their unique proprietary data."